Huawei Ascend P6 now official – "world's slimmest smartphone"
19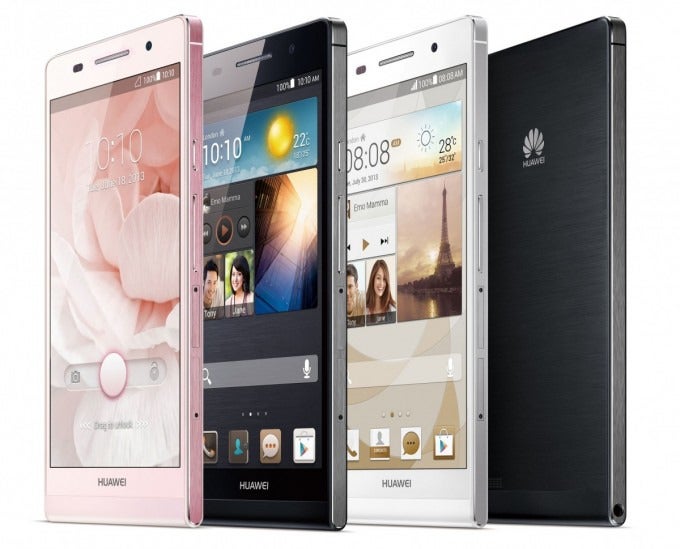 Right as planned, the Huawei Ascent P6 was just announced officially, although the
numerous leaks
did a great job at spoiling the surprise. Meet the new slimmest smartphone, with an awe-inspiring thickness of
only 6.18 millimeters.
(June 18 – we see what you did there, Huawei.) But even though it is so impressively slim, the Ascend P6 has quite a lot of goodies packed under its hood.
Inside the sleek metallic body of the Huawei Ascend P6 ticks a 1.5GHz quad-core processor. There is a 4.7-inch LCD touchscreen with HD resolution gracing its front – 1280 by 720 pixels, we assume. Huawei notes that an in-cell touch display has been used, which are known for their slimness. The 8-megapixel main camera can capture macro shots from as close as 4 centimeters, while the front-facing 5MP shooter ensures that your self-portraits will look as good as they should. And although there is a decent 2000mAh battery tucked behind its back plate, the
Huawei Ascend P6 weighs a mere 120 grams
.
To give users more value for their money, Huawei has added a few extra tricks as well. Among them is the so-called MagicTouch tech, which allows the screen to be operated even while the user has gloves on. Through some power management optimizations, Huawei has managed to make the Ascend P6 battery last as much as 30% longer than cells of this size used in other handsets. The AirSharing feature is present as well, allowing one to instantly share content over the air with TVs and other devices. Android 4.2.2 will come pre-loaded onto the Huawei Ascend P6, with the maker's Emotion UI layered on top. (Learn more about the Emotion UI interface in our
Huawei Ascend Mate
review.)
The Huawei Ascend P6 will be released in China this month. Markets throughout Western Europe will get the phone in July via a number of carriers and retailers: Vodafone, Telefonica, Orange, H3G, O2, Carphone Warehouse, TalkTalk, MediaMarkt & Saturn, TIM, Amazon and CDiscount. At this time, there is no information whether the Huawei Ascend P6 is ever going to be released in the U.S. Color choices include black, white and pink, with optional color-matching cases sold separately.
Elegant and edgy, the new HUAWEI Ascend P6 is the world's slimmest smartphone
At 6.18mm slim, the HUAWEI Ascend P6 is impossibly beautiful and always intuitive
[London, United Kingdom, June 18, 2013]:
Huawei, a leading global information and communications technology (ICT) solutions provider, today unveiled the HUAWEI Ascend P6, the world's slimmest smartphone measuring 6.18mm. The smartphone features a 1.5GHz quad-core processor and a sleek metallic body. With its 4.7-inch high definition in-cell display, industry-leading 5MP front-facing camera, and outstanding software, the HUAWEI Ascend P6 is the embodiment of elegance with an edge.
"The HUAWEI Ascend P6 is a star among smartphones with its industry-leading design, high-quality camera, and intuitive user interface, Huawei's proprietary Emotion UI," said Richard Yu, Chief Executive Officer, Huawei Consumer Business Group. "Building on the success of our Ascend P series of fashion smartphones, the HUAWEI Ascend P6 provides unsurpassed technology and a design that is simply stunning."
HUAWEI Ascend P6 is ultra slim at 6.18mm and weighs just about 120g. While it is small enough to slip into the tiniest of pockets or clutch bags, the stylish HUAWEI Ascend P6 is designed to be seen and coveted! It features a 1.5GHz quad-core processor, Android 4.2.2 operating system, 2000mAh battery, 4.7-inch HD in-cell LCD screen technology, and 'MagicTouch' for enhanced screen responsiveness even when wearing gloves.
As the flagship smartphone of the Huawei Ascend P series, the HUAWEI Ascend P6 embodies a cutting edge design for the fashion conscious. The smartphone's brushed metallic look with a naturally curved base is both elegant and intuitive. Impossibly beautiful, the Ascend P6 balances fashionable features and user-friendly functions.
Perfect for 'selfies', the HUAWEI Ascend P6's industry-leading 5MP front-facing camera and auto facial-enhancing capabilities create model-gorgeous shots you'll want to share. Its 8MP rear-facing BSI camera with F2.0 aperture and 4cm macro view also enables 1080P full HD video recording and playback. With Huawei's proprietary IMAGESmart software, the HUAWEI Ascend P6 turns even the most novice photographer into a professional, with contrast and color enhancement, auto scene recognition, object tracing focus, and instant facial beauty support.
The HUAWEI Ascend P6 is even more intuitive and able to be customized with Huawei's Emotion UI. Inspired by people, for device users worldwide, Huawei has gathered input from over 5 million consumers to help us optimize the latest version of Emotion UI. The proprietary user interface includes updates to Uni-Home including enhanced security, Huawei's Me Widget, MagicTouch, and SmartReading. New to Huawei's Emotion UI are the panoramic shoot and facial recognition photography functions.
Huawei's unique Automated Discontinuous Reception (ADRX) and Quick Power Control (QPC) battery optimization and power saving technology improves performance by more than 30%, compared with smartphone batteries of equal size. With its multi-screen AirSharing capability, you can connect to a range of devices to boost your productivity at work or play by easily sharing documents or enhance your gaming experience with minimal lag time.
The HUAWEI Ascend P6 is available in black, white and pink with matching color cases. It will begin shipping to China from June and to Western Europe from July through Vodafone, Telefonica, Orange, H3G, O2, Carphone Warehouse, TalkTalk, Media Markt & Saturn, TIM and online via Amazon and CDiscount with other markets to follow.
Recommended Stories