Huawei Ascend Mate 7 vs LG G3: first look
10

Today, renowned Chinese manufacturer Huawei revealed a stunning Android phablet – the all-metal Ascend Mate 7. Looking a little past its alluring looks and premium specs, we noticed something very familiar. White, black, and gold colors? Slim bezels? Huge display? A back panel that lets you interact with the phone? We saw a remarkable opponent of our beloved LG G3! And we couldn't help, but seize the opportunity to get an early glimpse at how the two compare in terms of size, specs, and user experience. Enjoy! We sure did.


Design
Both devices scream "efficiency!" with their trimmed bezels.

We can't help but notice the similarity between the Ascend Mate 7 and the LG G3's designs. Both scream "efficiency" with their trimmed bezels - extremely thin at the sides and reasonably thinned out on the top and bottom. The main difference that will catch everybody's eyes, though, is the build materials and quality. Great as it is, the LG G3's plastic-imitating-metal build cannot hold a candle to the Ascend Mate 7's authentic metal unibody construction. Both companies poured the utmost effort into their designs, but Huawei took its time and ended up with the sturdier, slimmer smartphone.




Still, this doesn't necessarily mean the humongous Mate 7 will feel better in your hand. In exact numbers, the LG G3 measures 5.76 x 2.94 x 0.35 inches (146.3 x 74.6 x 8.9mm), 5.26oz (149g), while the Mate 7 scales up to 6.18 x 3.19 x 0.31 inches (157 x 81 x 7.9mm), 6.53 oz (185g). See, although the Ascend Mate 7 is as compact as a 6-inch display smartphone can get right now, and is 0.4 inches (1mm) thinner than the G3, it's still 1.27 oz (36g) heavier due to its metal build, and quite a bit wider and bigger. We are sincerely wondering whether a 5.5-inch Ascend Mate 7 would have made for a more compact 5.5-incher than the LG G3. What do you think?

Interestingly, both devices come in matching colors - Black, White, and Gold. We are witnessing another match in their back panels, which have more to them than space to put your fingers and a camera there. While Huawei chose to put the Mate 7's fingerprint sensor there (remember the HTC One Max?), LG placed all control buttons there. Such decisions make a lot of sense on large-screen devices!
Display
We expect the Ascend Mate 7 to have a bigger AND overall better screen, but the LG G3 delivers on fine detail.
The Huawei Ascend Mate 7 has a fantastic 6-inch LTPS LCD 1080p display, which dials up to a Retina-satiating pixel density of 367ppi. The LG G3 isn't trailing too far behind - it has a 5.5-inch QHD LCD IPS display with a mind-boggling pixel density of 538ppi. Although the G3 has a sharper display, the panel comes with its share of problems - over-sharpening of text content, dimness compared to competing displays, and colors that are a tad overblown. As a newer device that also happens to rely on safe, proven display technology, we expect the Ascend Mate 7 to have a bigger AND overall better screen. Still, if you are on the hunt for microscopic detail and ridiculous sharpness, the LG G3 is your guy.
Interface
Both Huawei and LG's interfaces are very tastefully designed, feature rich, and supremely usable.
To really keep things interesting, Huawei introduced EMUI 3.0 - the latest version of its custom Android interface. It represents an extremely sleek, modern style that looks like it was put together by Western designers. Clean lines, moderate translucency, impressive animations, and a wide selection of software features are the bullet points to EMUI 3.0. There's nothing too flashy, though - in fact, Google's Material Design principles have been honored to some degree, resulting in plenty of white and many soft buttons and rounded corners. In terms of functionality, Huawei has added a privacy protection layer, a cloud service, a customer support service, an optimization app, and more bells and whistles that we're looking forward to experiencing for ourselves.
What about LG? Although its Optimus UI received a major overhaul this year, one that was universally for the better, the interface still looks cartoonish and a tad inconsistent compared to EMUI. Then again, while Huawei has obviously pinched design ideas from competing roms, iOS 7 and Windows Phone, LG's creation is more original, very usable, feature rich, and well fit for the G3. Software-wise, the two are pretty much on par. LG too has a preloaded security suite (McAfee Mobile Security), cloud and backup services, fancy widgets, a file system clean-up app, and many options for customization and additional security.
In short, both Huawei and LG's interfaces are very tastefully designed, feature rich, and supremely usable. The best part is, if you don't agree with us, you are on Android - you're free to customize!
Processor and memory
We can safely assume the Ascend Mate 7 is the more fit performer.
The Ascend Mate 7 sports an exotic hardware profile - it has an octa-core HiSilicon Kirin 925 1.8GHz processor designed by Huawei itself, paired with a Mali-T628 MP4 GPU and 3GB of RAM. Not long ago, the Chinese mogul boasted that the Kirin K295 outplays the mighty Snapdragon 805 in benchmarks, which, theoretically, means this configuration is more powerful than what the LG G3's Snapdragon 801 quad-core 2.5GHz CPU with Adreno 330 GPU and 3GB RAM have to offer. Considering that the Snapdragon 801 absolutely cannot show its best in the LG G3 due to the strain its QHD display places on processing and battery power, we can safely assume the Ascend Mate 7 is a more fit performer. However, we have to once again commend LG on the adequate results it managed with its strict optimization techniques.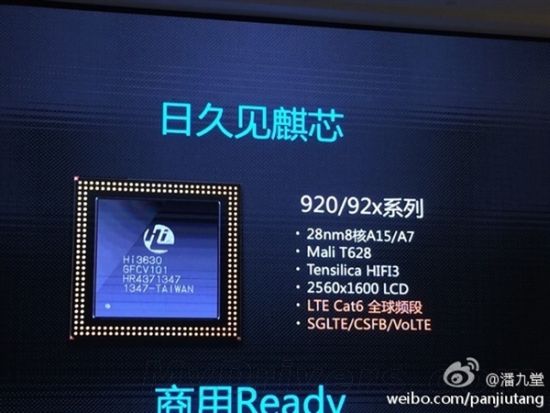 Camera
We still believe the LG G3 takes better photos quicker.
The Huawei Ascend Mate 7 has a 13-megapixel camera with a single LED flash, F2.0 aperture size, and a lively camera experience typical of Chinese smartphones. We're talking about features such as Beauty Mode, Ultra Snapshot, All-Focus, and Audio Note. The front camera is a 5 megapixel unit that's very capable of taking selfies with its 88 degree-wide angle lens and 4th-generation Sony sensor technology.
Where does that leave the LG G3? In a very comfortable place, we have to say. It too has as 13-megapixel main camera, but this one has a Dual-LED flash, a F2.4 aperture size, and a focus speed that's faster than "instant" thanks to its pronounced Laser Focus system. It too has effects such as skin enhancements, burst photos, and re-focus, and while its 2.1-megapixel front camera might be inferior to Huawei's, it has the most charming selfie-taking gesture known to mankind. Just raise your hand, form a knuckle, and you're immortalized!
Until we've had the Ascend Mate 7 long enough to form a solid opinion, we're inclined to believe the LG G3 takes better photos. We'll see!
Expectations
We don't see anybody going wrong by getting either of the two in the foreseeable future.

It was a glorious day today at IFA 2014! Like our esteemed Daniel P. put it, Huawei came out swinging today, and brought forth stunning smartphones. Like we said, different as the Ascend Mate 7 and LG G3 are, they have a lot in common. They are strictly devices for big-screen lovers. Although they aren't 64-bit, both have enough power on tap to keep you afloat for the next year and a half (at least). Both have gorgeous displays, with the Mate 7 enjoying the advantage of better screen technology and bigger diagonal. Both have superb Android interfaces and take great photos from all sides. Both look great, too, but the Ascend Mate 7 is, unquestionably better in the design and built quality department.
To conclude on an enthusiastic note, we don't see anybody going wrong by getting either of the two in the foreseeable future. But choose wisely and get the phone you will ultimately enjoy! The Mate 7 will be available in two versions, one with 2GB of RAM and 16GB onboard storage, and another with 3GB of RAM and 32GB onboard storage. The former will cost 499 EUR, while the latter will run you 599 EUR. US availability and pricing haven't been confirmed at this time.