How to wake your Android phone without keys, voice or tapping gestures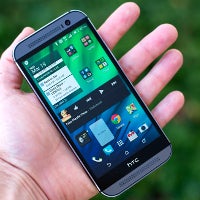 The screens and bodies of our smartphones are getting larger with each refresh cycle, and with that some everyday actions we were used to do in a certain way, are no longer feasible. We aren't even talking thumb-typing with one hand here, as handsets have long passed the size for that particular convenience, but also simply unlocking the screen is now a chore. You have to fumble for power/lock keys that are not always placed in the most ergonomics of places, especially on 5"+ phones, risking to drop the handset with the simple act of waking it up. If it wasn't so tricky, manufacturers wouldn't be coming up with ingenious ways to unlock the displays on our supersized handsets, like buttons on the back, shouting phrases, or tapping the screen to wake the phone up.
What if your smartphone was smart enough to use its built-in sensors for registering when you've picked it up, and once again when you have tilted it towards your face, so it lights up automagically. Yep, there's that, thanks to the power of third-party developers that Android is milking all the way. There's a new app, called WakeMe, which does precisely what we just described - it monitors your phone's sensors, and knows to wake the phone up when it is moved, and then tilted at a certain angle, which usually means you are making the screen parallel to your eyes. Granted, the interface leaves something to be desired, but it works, so here's what needs to be done to make unlocking your phone without even touching a button or the display:
2. If you want to immediately test and start using the app, press the "Disable device administrator button," and then tap on the big red "Lock screen now" one;
3. Test the app by leaving the phone on the side, then picking it up, and tilting to your face - if it works satisfactory for you, leave it that, or you can go in the WakeMe's configuration settings, and adjust the amount of tilt needed to unlock the phone, as well as the monitoring duration to the desired values. You can also set the app to start monitoring the sensors immediately after the screen is locked;
4. If you want more options, like loading the app upon reboot, or a simple widget for the homescreen, you'll have to get the PRO version for $2.71, but the free version should work well enough for most handsets Android
2.3
and above, too.