How to use your phone as a compass + the best Android compass app
7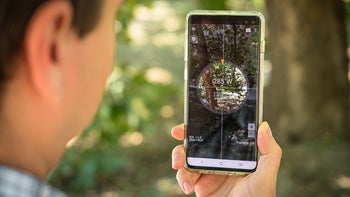 If you know your way around a smartphone, then you're surely aware of their versatility. There's a substantial number of every-day tools and devices a smartphone can replace, such as a camera, a radio, an alarm clock, a flashlight, a sound recorder... we can go on. The humble compass is also on that list, as you may or may not know. Inside your handset, there is a tiny magnet spinning around an axis and pointing at the planet's north pole.
Okay, we lied. Compass functionality in phones and tablets is enabled by something a bit more sophisticated – a sensor called a magnetometer, which is used to measure the strength and direction of magnetic fields. By analyzing Earth's magnetic field, the sensor allows a phone to determine its orientation pretty accurately.
Does my phone have a compass?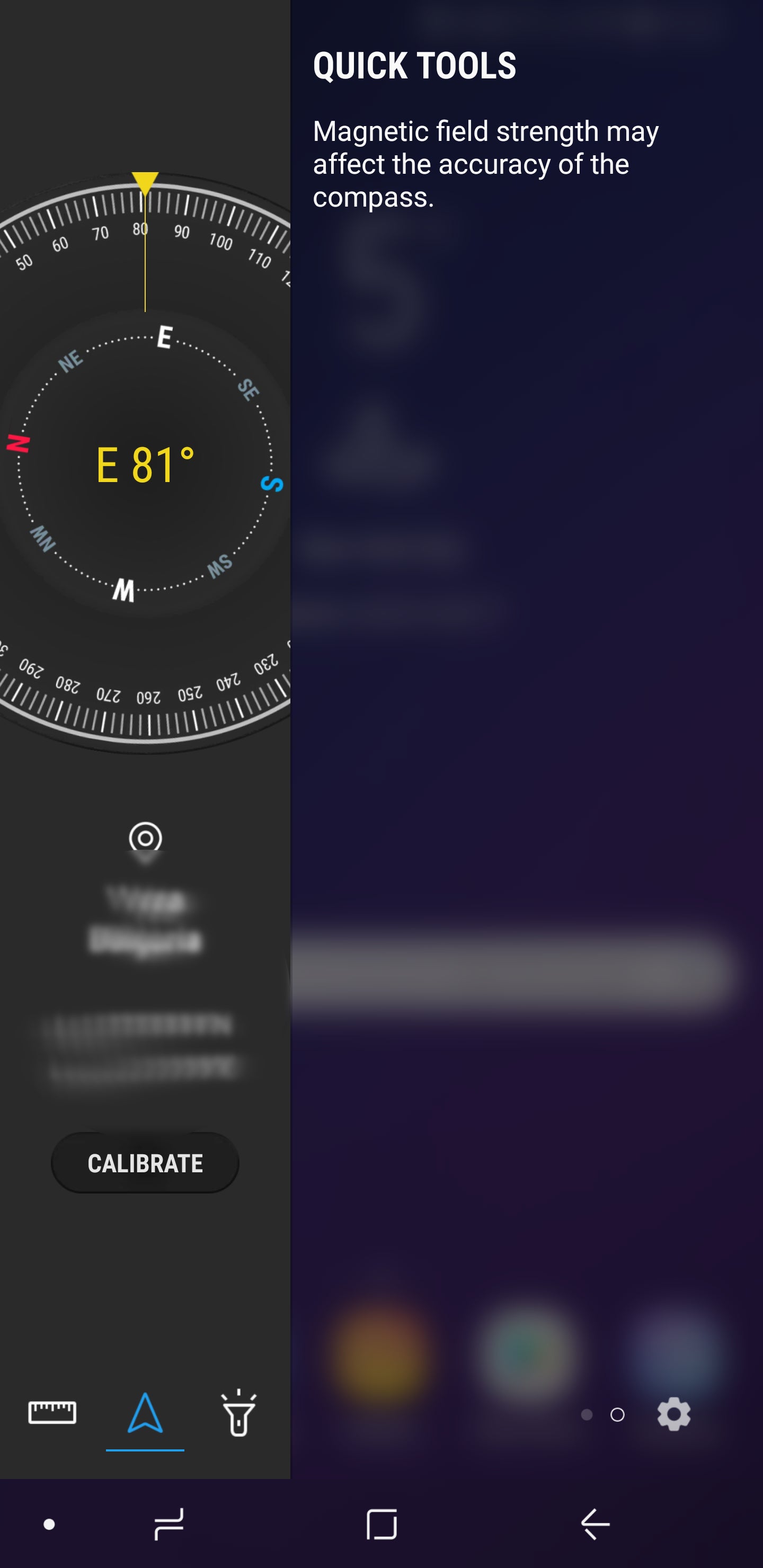 Samsung's Compass is hiding in an Edge Panel
Does your Android phone have a magnetometer? Yup, chances are that it does as most Android devices do. Even if you have an old or a cheap phone, there's likely a magnetometer inside of it. And, there are a lot of apps out there that make use of that magnetometer to display a digital compass on your phone's screen.
Now, some big name brands will include a compass app or function in their phones — for example, Samsung has a Quick Tools edge panel, with a compass widget embedded right on it, while Huawei's latest-and-greatest have their own a separate Compass app. If you are not sure whether you have this on your phone, perform a quick search — the easiest way to look for an app is by tapping on the Google search widget on the home screen and typing in "compass". Otherwise, see if your app drawer has a search bar, or just look for the app manually if you dare to do so.
In any case, stock Android doesn't have its own compass app, so chances are high you might be missing one. But hey, there's an app for everything! Actually, here's an entire list that features some of the very best compass apps for Android:
Best Android Compass Apps
Compass Galaxy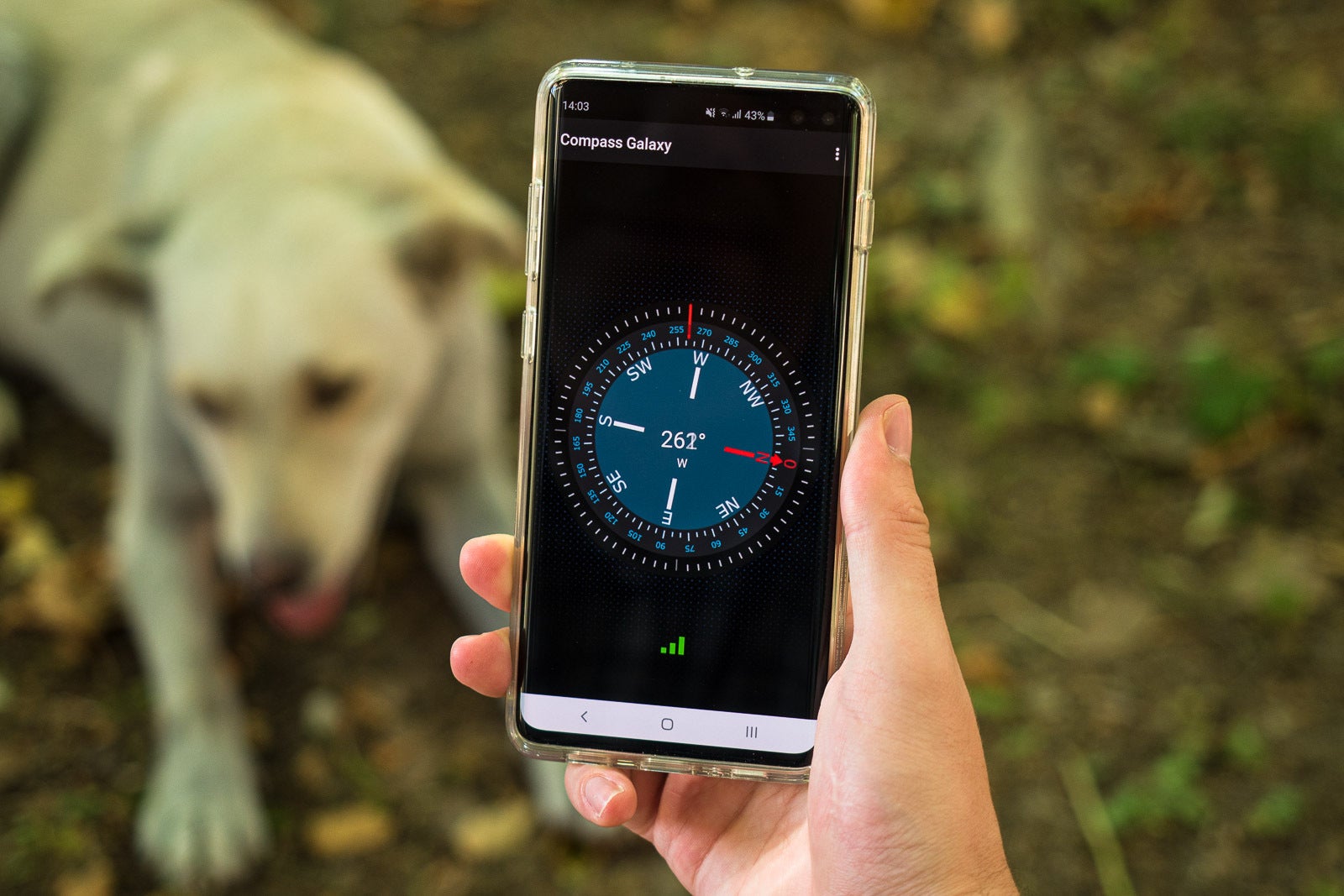 Compass Galaxy is currently the highest-rated compass app on the Google Play Store. It has a nice styling and it's ad-free and does only the most basic compass function. We would have liked for it to at least also have the ability to show your direction when you're holding the phone vertically, but even so, if you don't need any bells and whistles, this app will suit your needs perfectly.
Just a Compass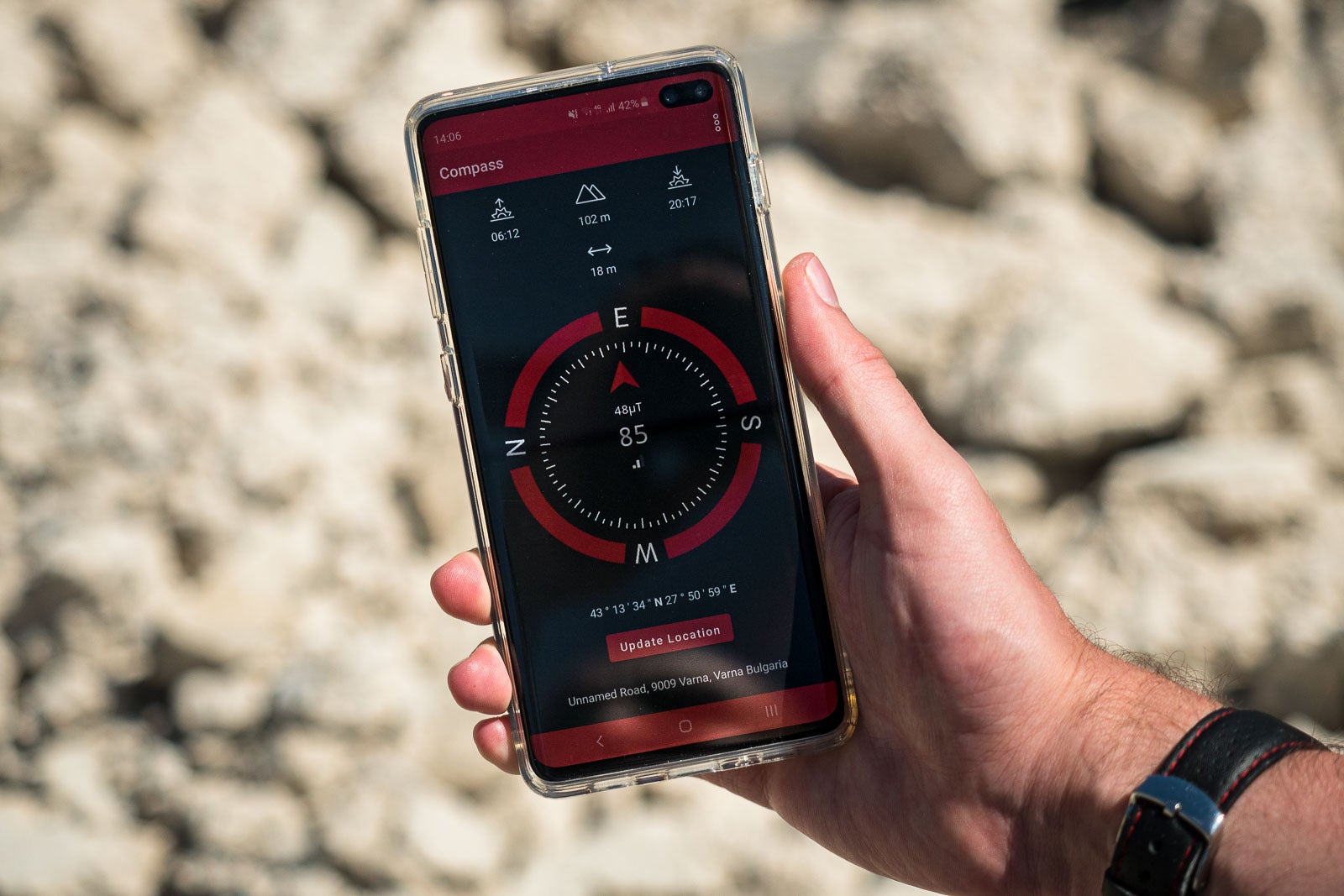 Just a Compass also has a very clean and straight-forward interface but has some additional features. Using data from your phone's location services (if you allow it to) the app will show you your altitude, exact latitude and longitude and the sunrise and sunset times. All of these can be pretty handy during a hike in the mountains.
Smart Compass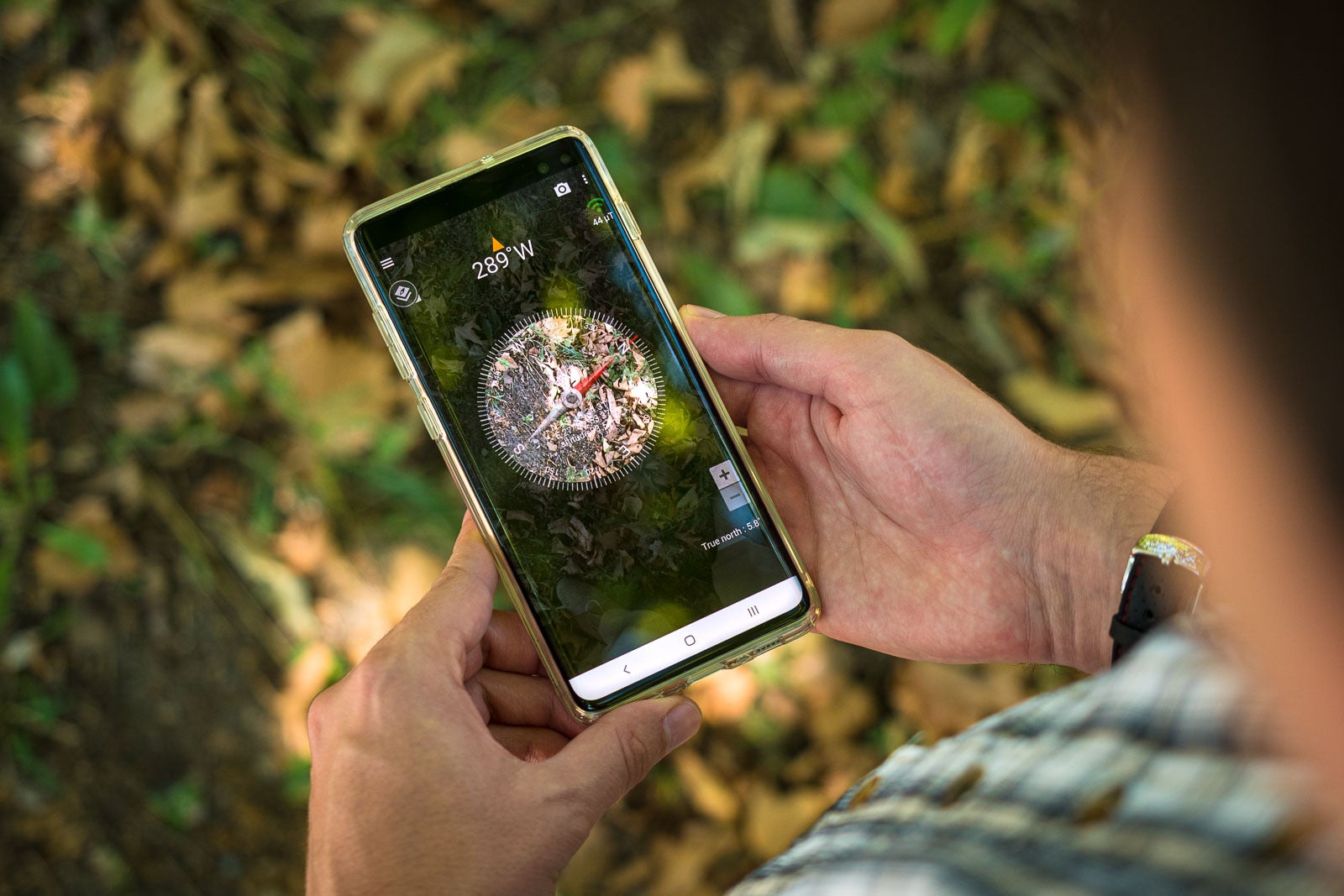 Smart Compass for Android is another app we'd recommend if you want some more advanced features. Beyond the usual compass functions, it also allows you to overlay the compass on Google Maps or even the have it over the video feed from the rear-facing camera of your smartphone. Why? Well, if you hold your phone vertically, a crosshair will appear pointing at the exact direction you need to go in order to follow the degree shown. Clever, huh? You may turn off the camera feature from the settings menu if you prefer to save your battery. And if you like the app, consider supporting its developer. The Pro version of Smart Compass ($0.99) adds a speedometer and the option to send GPS coordinates via SMS or email.
Compass by R. Apps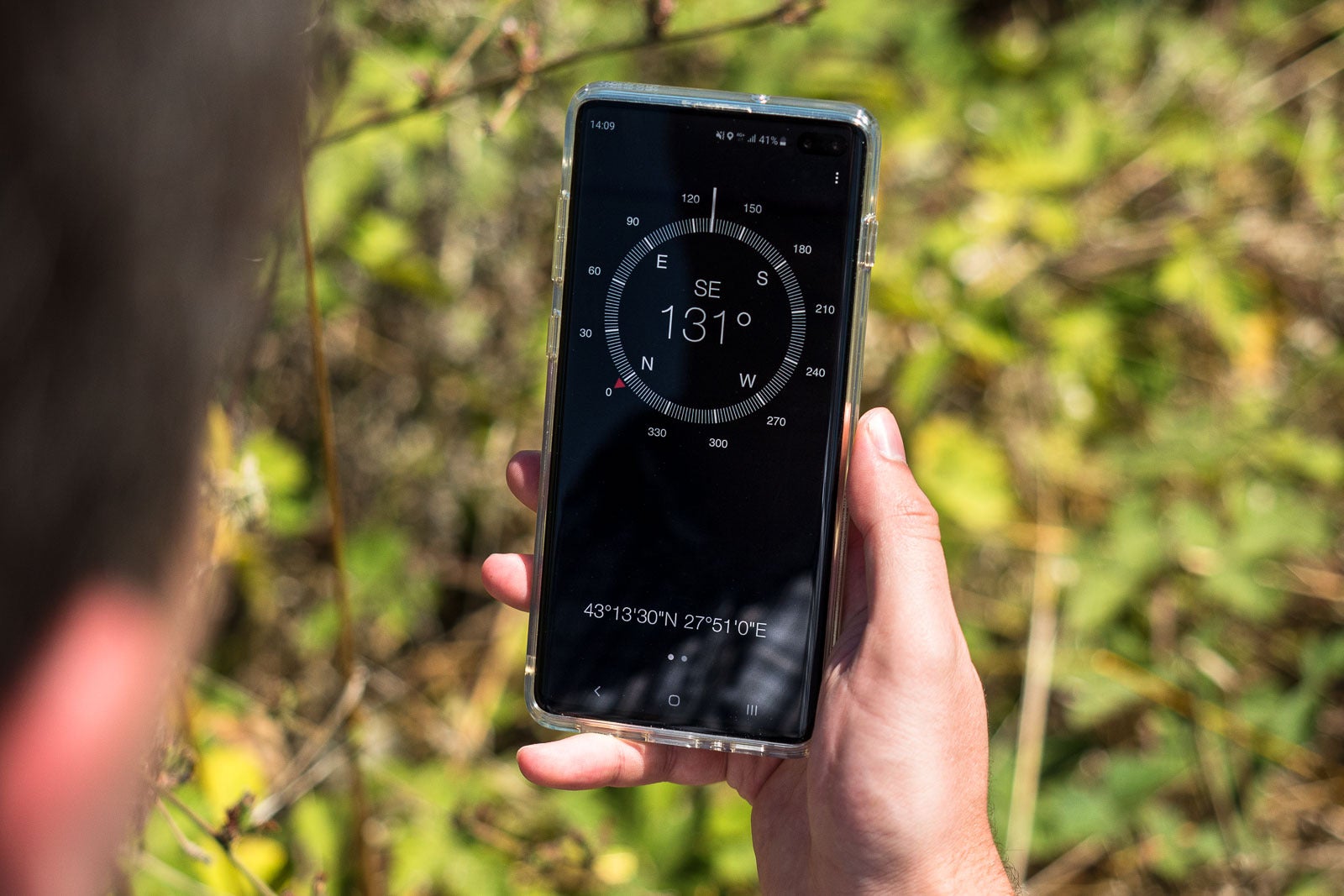 Another option, if you like a more modern-looking, white-on-black digital compass, check out Compass by R. Apps. It's not feature-packed, but it looks nice and is accurate. What this app offers that most compass apps don't is a level that lets you check if your shelves are leveled or if your table top is perfectly flat.


But before you can use a compass app effectively, you have to calibrate your phone's magnetic sensor. Most apps will remind you to do it from the get go, but some won't bother you at all. Either way, they all benefit from the same calibration technique.
How to calibrate a compass on Android
To calibrate your Android phone's magnetometer after launching your compass app of choice, hold it up and move it around in a figure 8 fashion. Several spins should do the trick. While calibrating, make sure you're far from computers, electric fans, Wi-Fi routers, or other electronics as these may interfere with the magnetic sensor and its readings. Metal isn't welcome either, so remove any rings or jewelry that are close to your phone. So now digital compass should be pointing (fairly accurately) towards the north pole.
And that's it! You're all set for your outdoor adventures!