How to unlock developer settings on the Galaxy S4: tap seven times on the build number
9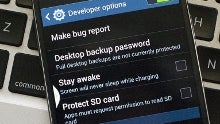 With Android 4.2.2, as running on the
Samsung Galaxy S4
, you need to jump through a few hoops to enter the developer settings on your handset.
These range from ways to visualize your touch interaction, to deeper access you should tinker with only if you know what you are doing.
The S4 developer settings are actually hidden where they are on Nexus devices, so if you do the same steps, you'll be able to get to the geeky stuff under the hood in a few taps:
Head into the Settings menu. Samsung's done things a little differently and changed the way the settings menu looks, so you'll need to hit the "More" tab.
Look for "About device" at the bottom. Tap it.
Hop on down to the build number, and tap it seven times. One. Two. Three. Four. Five. Six. You'll get a little prompt saying you're about to unlock the developer settings. Hit that button one final time -- seven! -- and they're unlocked.
The phone actually warns you how many taps away you are from doing the dev jig, so you'd know you've followed the instructions closely when you see it.