How to turn off SwiftKey keyboard's overzealous text prediction and corrections
13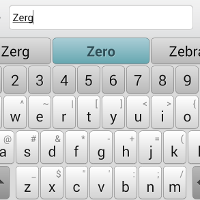 Have you ever felt like you want to throw your phone against the wall when SwiftKey always corrects your words into something else you never meant to type? Granted, autocorrect mistakes are one of the great sources of entertainment these days, and SwiftKey prides itself in its prediction algorithms, but this habit of the keyboard is mighty annoying nonetheless.
There is no doubt that SwiftKey deserves its place as one of the most popular and most downloaded Editor's Pick apps in the Play Store. Millions of users swear in its text prediction prowess, which adapts to your style with time, and there's barely a word you key in that would surprise the SwiftKey's algorithms. Until that moment, however, typing "zerg rush" turns into "zero rush" by default, as you can see in the slideshow below, and a bunch of slang transforms into something completely out of whack, so you have to recheck and retype each message before hitting send.
SwiftKey recently went free
, so many people will be getting annoyed by this for the first time. Bear in mind that, since SwiftKey is built around intelligent text prediction, this is not a foolproof method to stop the keyboard from displaying words you never meant to type, but it helps considerably in easing the road rage you get with the default settings. Here's how to turn SwiftKey's text prediction and corrections off until the keyboard has learned its lessons.