How to send Google Maps directions from your computer straight to your Android phone
2
Google introduced easier ways to communicate with your Android phone from your computer not long ago, letting you send notes and whatnot from the Chrome desktop browser to the handset. Until now, however, if you wanted to quickly look up directions on the largish screen of your computer with Google Maps, then send those to the phone and hit the road, you needed a Google Search intermediary. Not anymore, though, so here's what you have to do to get directions sent straight from
Google Maps on the desktop to the Maps app on your phone
:
1. Sign into Google Services on your desktop browser with the same Gmail account you are signed in on your phone;
2.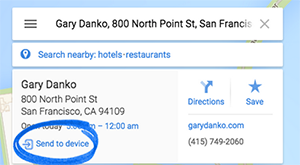 Hit the
Google Maps
site on your personal computer, and key in the place you want to go to;
3. If you have allowed notifications on your handset, there will be a small "Send to device" link in the lower left corner of the place address card that pops up, click on it;
4. Directions to the place will appear as a notification on your phone, and you can either start navigating directly via the status bar Maps widget, or tap on the place pop-up to open it in the Google Maps app on the handset, and take the road from there. There's only one caveat - you need to have the latest versions of the Maps app installed on the phone, so hit the Play Store, if the gadget has been pestering you to update your apps for a while now.