How to rearrange the Galaxy S8 icons with a tap for easier one-handed use
14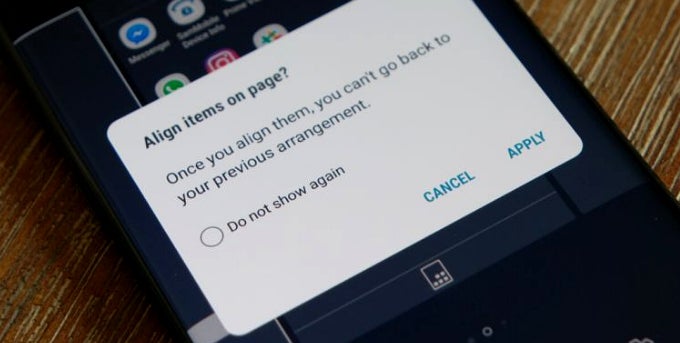 Samsung's new
Galaxy S8
and
S8+
flagships offer 83% screen-to-body ratio, the best in its class, and one of the best ever on an Android phone this side of the
Xiaomi Mi Mix
slab. The achievement is a result of extremely thin top and bottom bezels, curved screen sides, and new
18.5:9 aspect ratio for the display
. That aspect ratio means that the phone is narrow but tall, and some of us short-fingered folks won't be able to reach everywhere on the display while using the phone with one hand, despite that it is unbelievable compact for its 5.8" screen diagonal.
Fret not, as Samsung has provided the usual interface options like a one-handed mode for easier navigation, which shrinks the whole display into a more manageable size, until you are done reaching what you need to reach with your thumb, and can then unfurl it back up. With the
Galaxy S8 and S8+ new Samsung UX
, however, the company has provided another way to quickly reach your apps with one hand.
You can rearrange the icons on your home screen to shift to the lower right quadrant, where your thumb can tap on any of them with ease, instead of the default grid that starts from the top left, i.e. the one farthest from your thumb. Needless to say, if you keep your home screen full of app icons, the effect will be moot, but if you only have your most used ones there, here's what you can do:
1. Long-press on an empty area of your Galaxy S8 or S8+ home screens;
2. Among the options that pop up after the long press, there is a handy button up in the middle to shift the arrangement of your icons;
3. Tap on the button to move your app icons from the upper left to the lower right quadrant;
4. Tap "apply" on the pop-up prompt, and all your homescreen apps will move to the opposite diagonal, right underneath your thumb, bril.