How to re-enable Facebook chat on Android, and skip the RAM and battery hogging of the new Messenger app
19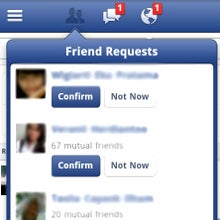 Facebook
forced the new standalone Messenger app
upon us, bragged how it
amassed 500 million users
in no time (we wonder why), and left us with all the accompanying battery drain, 17 MB of extra storage needed, RAM insufficiency in older devices, and the annoying impossibility to turn off notifications once and for all.
We aren't saying that the new dedicated app is ugly or lame, as it does the job fine in a more polished way than the old integrated Facebook chat, but until the company irons out the above-mentioned quirks, we'd rather stick with the Facebook app functions for mouthing off. Wait, but that's no longer there with the newest versions in the Play Store, so what's to be done?
Fret not, dear chathead, as there is an app for that. It turns out that the embedded chat in the Facebook app never went away, but the code is simply dormant, so you can simply unlock it in its former glory, notifications and all. Indeed, the always-inventive coders over at XDA-Devs have a solution, and here is what you need to do if you don't want to maintain two separate and pretty heavy apps for your admittedly just as heavy Facebook-ing needs:
1. Uninstall the official Facebook Messenger app;
2. Fire up the official Facebook app, and continue using chat from within, without the battery, RAM, and storage issues of the new Messenger app. There is no guarantee that this fix won't be circumvented in future Facebook app updates, so it would be wise to come and download the latest known version of the Facebook Chat Re-Enabler when that happens.