How to prevent Apple iPhone apps from tracking your location on the sly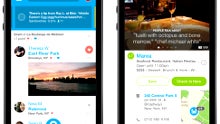 In light of all those, uhm,
celebrity leaks
recently, every little bit that introduces more privacy in the life of iPhone users helps. If you have wondered how does Foursquare, but plenty of other apps,too, check you in at random places you go, even when you have seemingly closed the app, you can find the culprit in an obscure slider in the General settings menu.
It was recently
disclosed in the Wall Street Journal
that Foursquare tracks your location in the background passively as soon as you have it installed on your gear, even if you aren't using it at the moment. Plenty of other location apps do this passive tracking thing, from popular navigation ones like Google Maps, to more obscure services like AirBnB or the smorgasbord of friend-finding, local deal-tracking, and phone theft protection apps.
Here's what to do, if you don't want some of those to engage in passively tracking your every move.
1. Go to your iPhone's settings menu (the cogwheel icon), and tap on the General settings option;
2. Once in General settings, scroll down to the option titled "Background App Refresh", and tap on it, as that's where all those tracking permissions are buried;
3. Here you will see the list of apps that track your location passively, along with a general switch for the background app refresh feature.
You can either turn the whole thing off, saving on battery in the process, but potentially disrupting the smooth flow of some apps that rely on the process, or choose each individual app's tracking settings.
Those who track passively, are marked with a tiny blue arrow next to them, and you can turn this feature on or off for them one by one.