How to improve the battery life on your Motorola DROID Turbo
99+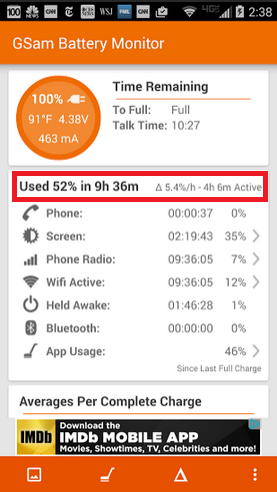 After calibrating the battery, this DROID Turbo doubles its battery life
The other day, we told you about some owners of the
Motorola DROID Turbo
who were
apparently struggling with poor battery life
considering the huge 3900mAh juicer that sits inside the phone. There are a number of things that can impact the battery life on the handset, including the quality of the network signal that the device is receiving.
But after reaching out to Motorola, one DROID Turbo owner has seen a dramatic improvement in battery life from a drain of over 10% per hour to a tad over 5%. And a factory data reset was not required. First, all Verizon bloatware was disabled. Then, the Cache Partition was wiped. This is a simple procedure and the directions can be found on the sourcelink.
Lastly, the battery was calibrated. To do this, run the cell down to 0%. Then, charge it back to 100% while keeping the handset turned off. Unplug the handset and turn it back on, and you should see an improvement in the battery life of the phone. Another DROID Turbo owner claimed to get over 30 hours by draining the battery, charging to 100%, clearing the Cache partition and then unhooking it from the AC cord.
We expect the phone to be
updated to Android 5.1 in the middle of next month
, and the update might resolve some of the other issues that DROID Turbo owners have had with Wi-Fi and the battery.
source:
Verizon