How to get the new Google Music app from Jelly Bean on your Android ICS phone now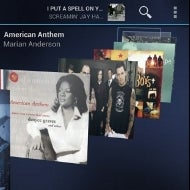 Android 4.1 Jelly Bean
comes with a new Google Music player, on top of the other rather cool stuff that it will bring, and perfect when you want to stream some of those up to 20, 0000 tunes you might have stored in Google's cloud.
JB is JB, but how about some respect for the poor Android Ice Cream Sandwich device owners? It comes, as usual courtesy of the XDA-Devs forum threads, in the form of the new Google Music .apk, pulled from the official Android 4.1 build, which just
got released recently to the Android Open Source Project
.
Here are the steps to install it, if you don't have much experience with such pulls:
Have a rooted or not Android ICS device, of course. If you have the current Google Music app, uninstall it;
Go to Settings->Security->Unknown Sources, and check to install sideloaded apps, if you haven't done so already;
Download the Google Music 4.3.605 app;
Get to it with a file browser and install on your device, reinstall/reboot is there are issues.
It's the latest version of the app, and even features a widget for your homescreen, which is not the prettiest of sights, but works for streaming songs from the Google Music cloud and playing offline tunes, and that's what's required from it.