How to enable the Live Weather lock screen on your Samsung Galaxy Note 5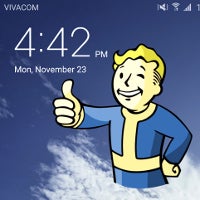 Did you know that your Samsung Galaxy Note 5 comes with a rather nifty weather-showing lock screen, among other things?
Well, it does, and yes, we are aware that you can easily download such a lock screen replacement for your device. A simple Google search gave back more than 700 results, which means that you have a large selection pool.
Still, we tend to like Samsung's solution a bit more than the others - after all, it's built into TouchWiz, which technically means that we shouldn't experience any issues with it.
But what does it do, exactly? Simple - it changes the lock screen wallpaper in accordance with the local weather, time of day, and location you're in. It draws its info straight from Samsung's weather widget.
Here's how to enable the nifty weather lock screen on your Galaxy Note 5. Of course, it works with other recent Samsung devices, such as the Galaxy S6
edge
.