How to enable Theater mode on any Android Wear smartwatch
4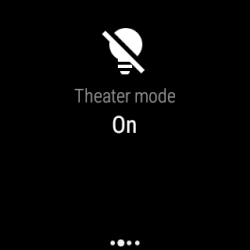 When Android Wear 5.0 came around, it brought along a nice little feature called Theater mode. This article explains how to turn on Theater mode on any Android Wear smartwatch running at least version 5.0 of Google's wearable OS.
In Theater mode, your Android Wear smartwatch will stop lighting up when you raise or tilt your wrist, and it will also stop vibrating to inform you of your notifications. Since the mode stops the screen from turning on and also kills the vibrating notification, it also helps a lot with extending the battery life of your smart wrist piece.
If you're at dinner, when you're sleeping, when you're at the theater, and in many other scenarios where you don't want your smartwatch to interrupt your offline experience, you might want to enter your device in Theater mode. Here's are the simple steps you should follow to enable the Theater mode:
Case A
: If your smartwatch comes with a physical power button, activating Theater mode cannot get any easier. Just press the power button two times. To disable the mode, press double-press the power button again.
Aside from making it easy to enter the Theater mode, smartwatches with a power button also allows the user to quickly wake up the device without exiting the mode. To do this, just press the power button.
Case B
: If your Android Wear device doesn't come with a physical power button, go to the watch face, then pull down from the top to reveal the modes screen. Swipe to the left to get to the Theater mode, then tap on it to activate it. To deactivate the mode, double-tap the screen of your device.
There you go, now you know how easy it is to set your Android Wear smartwatch to Theater mode.