How to download and install iOS 11 on your iPhone, iPad or iPod touch
2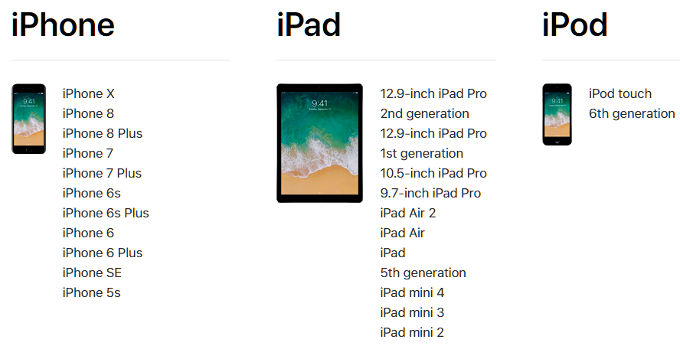 These are the eligible Apple devices that are primed to get all or some of the iOS 11 new features
Today, September 19, is
iOS 11 release day
, as Apple is set to unleash the official version of the operating system to the iPhones, iPads and iPod touch listed above. The release will likely kick off at around 10 AM Pacific time, which is the usual time Apple seeds major new firmware updates. As usual, it will be rolled out in waves, meaning you should not freak out if you don't receive the update in a timely manner, it will arrive eventually.
As usual, there are some winners and losers, meaning that really old iPhones and Apple tablets won't get any of the iOS 11 goods, as you can see in Apple's helpful list above.
Anything iPhone 5 and below, or the OG iPad mini, won't be updated to any of the new features, but if you are rocking these dinosaurs, it's a good reminder to finally ditch them for something more advanced anyway.
As to which devices will get what features, well, that is hardware-dependent, as usual. For instance, peer payments and Apple Pay Cash are available only in the U.S. on iPhoneSE, iPhone 6 or later, iPad Pro, iPad (5th generation), iPad Air 2, iPad mini 3 or later, and the Apple Watch. Before we get to specifics, there are some things you should know, like when the update will likely hit some of the major time zones around the world:

Warning
: Make sure to backup your device before you update your iPhone to iOS 11. One can never know, and a handy iCloud or iTunes backup will save you lots of trouble. The easiest way to manually enforce a backup is by going to Settings > iCloud > Storage & Backup and tapping the large Back Up Now button at the bottom of the display.
So, how to get the update? There are two ways, one easy and the other one being a tad more complicated:
You should see something similar to this when iOS 11 hits your device

1. Wait for the OTA update
This is how the vast majority of iOS users will get the iOS 11 update on their devices. As usual, once the iOS update is available for your device your phone will inform you about this with a pop-up notification on your display.
Naturally, you'd want to click on the
Details
button in order to go to the
Software update
menu, which can be found in
Settings > General
. There you will see general information about the update.
At the bottom, you should see a
Download and install
button, just tap on it and follow the on-screen instructions, and you will be running iOS 10 in no time.
We've heard some old wives' tales that continuously opening and closing the
Software update
menu will let Apple know you are desperate to receive the update now, but the scientific community is yet to prove these unfounded claims.

Read more on the exciting new features that await you in iOS 11:
2. Install iOS 11 manually via iTunes
Users who are more comfortable the iTunes way can hook up their gear to the computer, find their device, and click the "Check for update" button, though you should receive a prompt for an upgrade on the fly. Just click the Download & Update button (pictured right below), and you will have your iPhone, iPad or iPod touch brought up to iOS 11 in no time.
Click the 'Check for update' button in order to see if iOS 11 is available for your device
Finally, we'd advise you somewhat reluctanctly to wait a little bit with the iOS 11 update. There have been occurrences when Apple's activation servers go down on account of the monster amount of immediate requests, and if you hit that button at the second the prompts appear, you might be left with a device that has no restoring in sight until the servers get up again.
Thus it'd be wise not to jump the gun immediately, but do it in the evening at home, or the next morning, depending on your country of origin, when the initial workload for Apple's servers has subsided.