How to create memes quickly and easily (Android)
6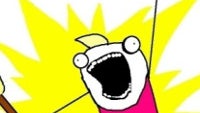 Ah, memes – the cultural phenomena that can probably be used to best describe leisure time spent on the Internet(s). The trend involves the constant repetition and recycling of images and figures of speech, usually used as punchlines for different jokes. Despite the fact that it is bound to be over-used by definition, a meme's lifespan can be quite long – some have endured for years, while others get popular fast and then go out in a blaze of glory.
So, with it being a regular way to communicate on forums, and a great way to share some internal jokes with friends, it only makes sense that more and more people will be looking for meme generators to plaster their own jokes on. But there's no need to go on the web to do that – there is a pretty simple way to make any meme you can think of right from your phone. All you need is an app – check out the slideshow below!
There you go, then! Happy meme-ing!