How much of a RAZR is the Motorola DROID RAZR
41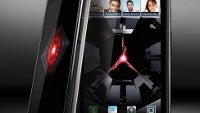 Motorola just unveiled the thinnest smartphone ever created - the 7.1mm thin DROID RAZR. Named after the iconic Motorola clamshell, we can't help but wonder - how much of a RAZR could this new DROID RAZR turn out to be? By the looks of it, Motorola has made all the right moves when it comes to crafting a capable and industry-leading phone, but whether this would be enough to warrant such a bold name remains to be seen.
First of all, we should note that the original RAZR was all the rage because of its premium design. Not only did the handset look really cool (to the point that it still looks great today), but it was also made of high-quality materials, mainly metal. With the DROID RAZR, Motorola is trying to get some of that sexiness from the past and marry it with the tough DROIDs of the present. What this means is it has set out on a journey to deliver a contemporary Android smartphone that actually looks good. And looking at the current landscape of Android handsets, this might be just the thing to differentiate Moto's new phone.

In a smartphone world dominated by 4" slabs, it appears that crafting such a captivating handset is not an easy task. However, Motorola knows how to build premium products, and the way it has approached the DROID RAZR seems pretty appropriate. Thinking about it, the handset will be quite different from the rest of the Android crop, as in addition to a top-notch specs sheet, it will also have a good-looking body, made of high-end materials such as stainless steel, Kevlar and Gorilla Glass. Moreover, it will also feature some diamond-cut aluminum accents for a further boost in the appearance department.
So, by the looks of it, the DROID RAZR encompasses what a true RAZR device should - sharp looks, coupled with high-quality construction and materials. Right now, the strongest point of the new handset seems to be its unbelievable thickness of 7.1 millimeters! That's indeed a spectacular achievement, especially when you have in mind that the other thinnest phones on the market like the Galaxy S II and the iPhone 4S clock in at 8.5mm and 9.3mm respectively. So the DROID RAZR leads by quite a margin.
But there's so much more to market success than thickness. With a uber-premium price tag of $299, many a user will have to think twice before picking up the Motorola DROID RAZR, even if its the thinnest LTE smartphone around (and thinnest 3G smartphone, for that matter). What do you, guys and gals, think? Armed with a top-notch specs sheet and a beautiful body, could the DROID RAZR repeat the success of the iconic Motorola clamshell?