Hot new phones coming to Verizon next month!
99+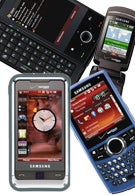 Verizon "Big Red" Wireless wants to be better than Santa and prepares a bunch of hot new phones for the Holidays (scheduled to be released in November), an internal document tells us. We've heard about them in earlier rumors, but here is the real deal:
The
Samsung OMNIA SCH-i910
looks exactly as the
GSM
version, with the Widgets on the homescreen and optical mouse between the send and end keys. From the few listed specs it seems to be the same when it comes to features, too. Instead of GSM it is a CDMA/EV-DO phone but also runs on Windows Mobile 6.1 Professional OS and features 5-megapixel camera, 8GB internal memory plus microSD slot, 128MB RAM and GPS (for VZ Navigator). As there is a main menu button on the bottom of the home screen we guess that the Verizon OMNIA will have the same personalized interface as the original.
If you are keen on Windows Mobile but don't like the OMNIA, don't worry, Verizon Wireless will spread some HTC magic as well. The CDMA version of the Touch Pro appears as the PCD Raphael C XV6850. We guess that stands for Raphael CDMA (Raphael is the internal name of the Pro) and the carrier will call it
Verizon Wireless XV6850
, the successor of the XV6800. Features include EV-DO Rev. A support, Windows Mobile 6.1, 3.2MP camera, Wi-Fi, microSD slot and VZ Navigator. We hope we'll see the TouchFlo 3D interface as well, although it is not shown on the picture.
The third new Windows Mobile 6.1 Professional smartphone is the
Samsung Saga SCH-i770
. This is the VZW variant of the Epix and will replace the i760 as a CDMA/GSM hybrid (it is quad-band GSM for global roaming). Saga features EV-DO Rev. A, WI-Fi, Bluetooth, microSD and 2MP camera.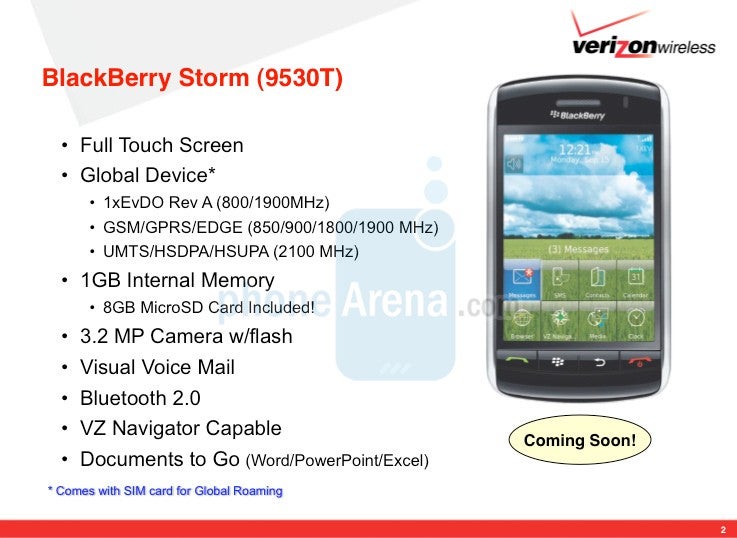 Storm
Oh, it seems Verizon Wireless really is in love with Samsung, doesn't it? The Korean manufacturer will bring another global phone, supporting both CDMA and quad-band GSM frequencies – the
Samsung Renown
SCH-U810. It is a clamshell reminding of the Gleam, with 2-megapixel camera, stereo Bluetooth, microSD slot and one of the few to offer Visual Voice Mail.
The document of course displays also the first touchscreen BlackBerry, the Storm.
Which one do you like most? Do you plan on buying for a self-gift for the Holidays? Tell us in the comments section below!