Hong Kong drama: Tim Cook just had a sit-down with Chinese regulators
6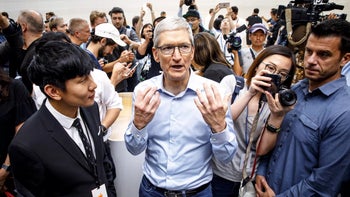 Apple's CEO Tim Cook felt compelled to fly over to China and meet regulators over the controversy surrounding one inconspicuous map-pinner app yesterday. If you think that's bonkers, you don't know how touchy the Chinese have become over the Hong Kong matter, and how important of a market they are for American companies now.
China's State Administration for Market Regulation issued out a memo
detailing
the encounter, saying that Tim Cook met with Xiao Yaqing, the chief of the administrative body, and they discussed Apple's consumer rights protection, corporate social responsibility and continuing investments in China.
In light of the
veiled threats
in the official People's Daily mouthpiece last week, this hastily arranged meeting sounds suspiciously like laying out some boundaries for Apple's presence in China.
The HKmap.live app that shows to Hong Kong protesters where there is large police presence or general altercations was
removed
, then reinstated, then removed again by Apple, much to the chagrin of its developers. The browser version is active, though, it's just not available in an app package now.
Apple is in a complex relationship with China, and the fact that the CEO of the world's most profitable company had to fly half the globe to meet with local regulators, is pretty telling. While the White House has postponed the tariff hammer over China-made goods, it can fall any time, and Apple's products may become more expensive as a result, so the CEO has to tread lightly around the topic, and so far Tim Cook has been doing it successfully.