Hillcrest Labs brings its advanced Freespace motion sensing technology to mobile devices
1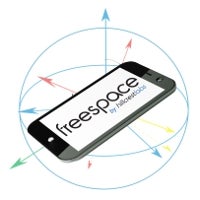 Hillcrest Labs has made a name for itself supplying natural
motion
control to Smart TVs and gaming consoles. Now its award-winning Freespace MotionEngine software will be coming to smartphones powered by Android and Windows 8 slates.
MotionEngine measures the data supplied by the guroscope and the other sensors inside the phone or tablet in a way more precise and battery-efficient method than what we have now. This will allow for
context-aware motion sensin
g, that can gauge your surroundings and make the device react accordingly.
When in a car accident or a sudden fall, for example, Hillcrest's technology can detect the suspicious movement and beep you for reaction, then make the phone inform 911 or relatives if it doesn't get an answer. Other possible applications are pedestrian navigation and fitness tracking, as well as more immersive gaming experience.
The precise measurements and sensor calibration that Freespace for Mobile will offer allows for navigating the UI with gestures, like tilting the phone to go back in the browser and so on. The technology is sensor-agnostic, meaning that it can work with any accelerometer or gyroscope sensor maker.