Hey there, good lookin' - here's the OnePlus 2 in hi-res leaked photos
21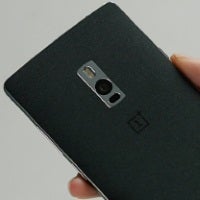 Hours before the long-awaited, hyped-to-the-max
OnePlus 2 announcement,
an anonymous Chinese leakster posted clear and superbly informative photos of the handset over at XDA Developers. Sorry, Mr. Pei & company, but that's the way it goes these days - surprises, nomatter how exciting, are a thing of the past now. In fact, things have been like this for quite a while - just ask Apple about the iPhone 4...
...anyway, the OnePlus 2 looks like an overhauled version of the 2014 original. Those expecting blistering innovation and disruptive ideas will walk away with a knowledgeable "seen it before" yawn, while others will certainly appreciate the omission of plastic elements in the name of cold, hard metal. This isn't a unibody design, however, as the OnePlus 2 preserves the removable back cover and swappable battery, which ought to make disheartened Samsung fans rejoice.
Other notable changes include a dual-LED camera flash, along with what appears to be a sensor or camera button positioned right below the rear camera lens. On the front panel, there's a fingerprint sensor, which may or may not double as a Home button (as seen on the Meizu MX4 Pro, for example).
The leakster him/herself had the following to say (make of it what you will):
"I am a beta tester from China
I have used the new OnePlus 2 for a few week
Ugly design, but the crafting is good
Thicker body, but feel good in hands
Camera has OIS, but not Sony sensor
Home button with fingerprint sensor, not quite sensitive
Oxygen OS not finalize yet, lots of bugs

Prefer OnePlus One more ..."
Despite the lack of major design changes (save for that sturdy-looking metal frame), evolution has clearly graced the handset and we're quite keen to learn more about the OnePlus 2's new features.
This will happen in a few hours
, so stay put! Oh, and in case you forgot (or didn't get to know) what the original OnePlus looked like, we've attached a gallery below the leaked photos so you can compare!