Heroes vs. Mechs, a free tower defense game, arrives as iOS-exclusive
1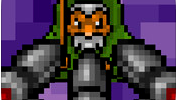 A new tower-defense game has made its debut on the iTunes App Store! Dubbed Heroes vs. Mechs, the game attempts to combine the popular tower-defense genre with decidedly old-school visuals.
The game itself is a mix between science fiction and fantasy - a band of merry, medieval heroes wakes up from their cryogenic chambers in 3013 only to find out, that all of the living creatures on their planet have been replaced by machines, called 'mechs'. No, players won't side with the fantasy warriors, but with their metal rivals. As usual in tower defense games, a certain location will have to be defended at all costs from the incoming fleshy foes.
Well, Heroes vs. Mechs does not feature any ground-breaking innovations in the field of mobile gaming, but it surely has something something to offer to even the most hardcore tower defense fanatics out there. The maps in Replayism's game do not restrict the player to build towers over a strictly specified pattern. On the contrary, gamers will have the freedom to place their defensive mechanisms almost anywhere on the map. What's more,just like in some other tower defense games, the player won't remain idle while the countless hordes of enemies attack its structures, but will be able to affect the gameplay with the aid of several "super weapons".
The game offers only 10 levels, but these can be played on 5 different difficulties, which will most likely provide enough of a challenge even for the most avid fans of the tower defense genre.
Heroes vs. Mechs is free to download and play (you can check the link below). The tower defense game is currently iOS-exclusive and, unfortunately, there is no info whether versions for the other mobile platforms will be released.
Download: Heroes vs. Mechs (
iOS
)
source:
Replayism
via
AppCraver