Here's what we'll remember Steve Ballmer for (best and weirdest moments)
29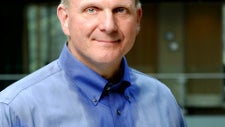 Microsoft chief executive
Steve Ballmer has just announced he will retire within 12 months
, a time period that the company will use to find the right successor for the CEO position. Ballmer was more than just a chief executive, though. He was an eccentric, a weirdo, an entertainer that will be remembered for much more than just the products he oversaw.
Speaking of products, Ballmer's legacy is mixed and many will certainly see his retirement as an opportunity for Microsoft to step out of the shell it built for itself as a
"Windows, Office and PC"
company. Under Ballmer, Microsoft launched many failed products - from Windows Vista to the Zune, and most recently the Surface tablets.
Yet, Microsoft remained financially stable. Microsoft stock is up 7% on news of Ballmer's retirement, but throughout the years it remained relatively stable at around $30. We should also mention that all of this happened as stock of Microsoft rivals Apple and Google shot through the roof, and both now have a larger market cap than the once biggest tech company Microsoft.
These are all things that you'd remember Microsoft for, but we'll mostly remember other things about Ballmer. We'll remember him laughing off the iPhone as irrelevant, we'll remember an eccentric sweaty executive jumping and shouting on stage,
"developers, developers, developers."
Such bizarre moments were a regular part of Ballmer's 13 years as head of Microsoft, and you can take a look at it all in the video right below.
What will you remember Microsoft's Steve Ballmer for?