Here's what our readers dislike about the Galaxy S4
66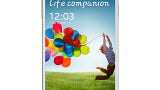 Last week we had a post asking you to share your thoughts about the Galaxy S4 with our community. More specifically, we asked you to tell us if there's something that you dislike about Samsung's new flagship. And what do you know, the response we got was fantastic! The article easily got more than 250 comments, all of which coming from our enthusiastic readers who were eager to express and then defend their opinions about the wonderful smartphone that the Samsung Galaxy S4 is.
To tell you the truth, some comments were even a bit too enthusiastic and heated, as the discussion quickly grew into a flame war. Not that we mind it, after all, that's what the comment section is for, but what we find quite amusing is how the idea that different people can like different things seems to be downright unacceptable! We just find this very funny.
Anyways, we read through all the comments and picked some which we think represent the complaints of the majority. To summarize, it looks like most of you, guys, dislike the plastic design and uninspiring looks of the Galaxy S4. Other reasonable complaints include the poor call quality and outdoor visibility. Before we leave you with the featured comments, though, we just wanted to say that we tend to agree with most of them, especially the one that says the GS4 doesn't make caramel machiatos, which is something that we did miss to mention in
the review
... See? Good thing we made that article!
Are you cool with the GS IV? My list is something as follows:
1. U.S. editions not getting the Exynos octacore love.
2. Call quality could be better.
3. I like the 5.5 inch screen of my Note II.
4. I like the S-pen of my Note II.
If I didn't have a Note II, I probably would bite the bullet and get a GS IV. But I do, so I won't. I will be getting a Note III, however. -
Droid_X_Doug
Its a very cool phone
But I would love to have a bit smaller phone with the same internals and a bit better design -
atsamman
4. Lack of OIS: I want OIS. There must be thousands of users like me who don't have 100% steady hands. And even the slightest amount of shake ends up
slightly blurring photos which annoys me. So a OIS is a must for me. If HTC was able to do it. Why not samsung?
I am OK with plastic. As long as the phone doesn't break when it falls. -
AppleHateBoy
1. Too much plastic
2. Phone/screen too big - if it could retain the slim bezel but be 4.7", perfect
3. Remove the capacitive buttons. It's 2013!
4. Calm down a bit on the cartoony colors of Touchwiz.
5. Get rid of that terrible speaker on the back and innovate some sort of REAL speaker, take note from HTC One or iPhone.
6. The microphone sucks, take note from iPhone hardware AND software (noise level detection).
7. Shaky video, take note from Lumias.
8. FOR THE LOVE OF GOD, put the charging port and headphone jack on the same side, the bottom preferably. -
Synack
Honestly I hate:
1.The dull design....was not a fan of S3's design either....I expected samsung to go back to S2 days...
2.Choice of material....its not the plastic I am against....why not build a plastic phone like HTC one X...that was plastic too. ....but not this glossy
and looked premium.....
3.Nature UI is played out...expected something cooler....
4.This i have not tested personally...but what I have read from reviews the microphone is not great either.... -
Smart
There is few main things which I dislike like about Samsung Galaxy S 4:
1. OLED based display.
2. Cheap looking design.
3. Too much gimmick bloatware.
Everything else looks good. -
PhoneArenaUser
I hate the fact that its not in my possession!!! -
mrraider602
1. Cheapish look and cheap feeling plastic
2. Boring design, you get a 99$ samsung or a 750$ they look the same
3. Software gimmicks, bloated cartoonish UI
4. Poor speaker and phone call quality -
jo_Ny
The lack of auto compression, and auto edit in the video camera. That's a real bummer, but won't stop me from copping one on launch day. -
darkkjedii
1.It doesn't have the best camera in a mobile device
2.The build quality isn't premium
3.The screen is too dark outside
4.The screen still can break, scratch, ding, etc.
5.It doesn't make me caramel machiatos
6.It won't grant all my wishes -
mclifford81
Thanks to everyone for their comments!