Here's what Bill Gates thinks of Windows Phone 8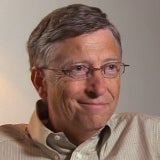 Sure, we all know that Steve Ballmer is the boss at Microsoft now, but haven't you wondered what the most influential figure in Microsoft's history thinks about Redmond's latest endeavors? With Windows 8 and Windows Phone 8 being such bold steps, introducing a whole new philosophy behind Microsoft's beloved OS, haven't you wondered what Bill Gates thinks of all this? Does he like where Windows is going? Does he really believe that Windows Phone 8 has the potential to become a big player again? And will he get a Surface? Well, if stuff like this has been bothering you, we're happy to share that video with you, featuring Microsoft's Steve Clayton and chairman Bill Gates, discussing all of these promising and much-anticipated products.
We certainly wouldn't want to spoil the surprise for you, guys, so here he is, the man himself, sharing his opinion on Windows 8, Windows Phone 8 and Surface...
via:
Neowin