Here's the iPhone without bezels - do you like what you're seeing?
36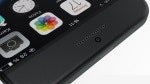 What's an iPhone 7 Edge? It's an iPhone with practically-non-existent bezels that isn't a creation of anyone at Apple, but rather envisioned by prolific smartphone concept designer Hasan Kaymak.
Instead of bezels, the screen's sides have curved 'edges'. The subtle curve to the laminated display makes it look like a part of the handset's body. The concept retains the iPhone 6's build materials and form factor, but the plastic bands filling in the antenna cut-outs have been gotten rid of, and an additional set of speaker holes have been drilled into the bottom end. The Lighting cable port has been replaced with pins for some reason, which doesn't look like a very Apple thing to do, but hey, it's there!
That curious tidbit aside, the iPhone 7 edge concept does look like something Cupertino could bring to the market when the time comes along, albeit in a more refined form. Check out the glossy renders and video below, and let us know what you think!