Here's how you can use your cell phone as a PC replacement (it works!)
34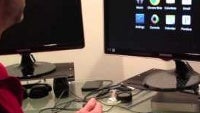 Ready to make the switch away from your desktop/laptop/tablet? Moving to a new place and need to buy a new computer? If you have one of the latest smartphones in your pocket, you might be surprised to find out that it's
got the power to handle easily some mainstream computing
. You'd also be surprised it's fairly easy to connect it to a monitor, hook up a keyboard and a mouse/trackpad, and off you go.
You don't even need to know much about hacking or rooting your phone as it all
should work out of the box
, with the stock software of a handset.
To prove the idea, Christian Cantrell took his Samsung Galaxy Nexus to the test. We should note that the Galaxy Nexus features the TI OMAP4460 chip, one of the most powerful pieces of silicon out there, so it's a good choice for handling more advanced tasks. An equally or more powerful device would be a good fit, but you might be annoyed by slower devices, so our recommendation is to pick your phone carefully for this.
Here's what Cantrell used to make his
Galaxy Nexus work as a computer
:
- Samsung Galaxy Nexus (not rooted, stock phone),
- microUSB/MHL to HDMI cable,
- Apple's Magic Trackpad (you can also use a Bluetooth-enabled mouse),
- Apple Wireless Keyboard (you can also try any Bluetooth-enabled keyboard),
- external monitor with an HDMI port.
And that's it. The cable would cost you around $20, and the price of the keyboard and trackpad/mouse shouldn't be too high either. You'd also need a monitor with an HDMI port - something almost every contemporary display has.
The demonstration below shows that you can easily do some casual browsing and if you're a Facebook addict, want to watch a movie, listen to music or do something similarly simple, you should be perfectly content with your new computer in the form of a phone.
Things start to get complicated if you really need advanced features - working with professional-grade graphical, video and similarly demanding applications is just not yet possible on mobile devices.
But for the rest of us - do we even need a computer anymore? Check out the demonstration video below, and chime in with your opinions - ready to make the switch?