Here's how to clear your Google Play search history
12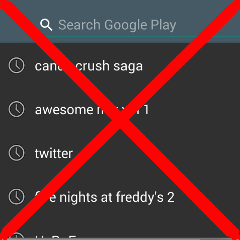 Regardless if you are among the Android veterans that remember the stock boot animation of Android 2.
3.4
Gingerbread or if you've just laid your older iPhone 4s on the shelf and adopted one of them shiny new 'Droid devices, chances are that you have fooled around on Google Play and browsed its darkest corners, searching high and low for all kinds of apps and games. Let's be totally frank here, folks, most of us have done so, and there's one place that keeps tabs on all of our searches, patiently waiting for us to type just the first letter and then promptly remind us of what we have looked for in the past - the Play Store's search history.
This can lead to some truly shameful moments - imagine that you're relaxedly chilling with a relative or a close friend, when either Lady Luck or your companion urges you to go ahead and browse Google Play for a trending given app or a game, say, Kingdom Rush Origins. You tap on the search bar and oops! Either Kama Sutra, Tinder (imagine if your spouse is the one being the one right beside you!), or even worse - Candy Crush Saga - pop up right below, indicating that you've been looking for these at a given point...
Well, in order to prevent a mini heart attack, to prevent a potential quarrel with your better half, or because of whatever reason you might think of, we will show you how to clear your Google Play search history.