Here's how sideloaded apps and widgets should behave on the Nokia X and Nokia XL
26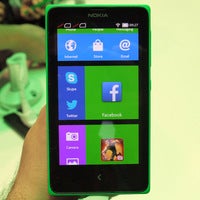 One of the several things that make the Nokia X and Nokia XL smartphones awesome is that they can run Android applications. That shouldn't come as a surprise as the handsets actually run a heavily customized variant of Android OS. However, the Nokia store isn't the only place where a Nokia X owner can get their Android apps from. Nothing is holding you back from sideloading your own Android APKs onto the device – a huge fraction of the existing Android apps should already work without requiring any software tweaks.
Well, we're glad to see that Nokia's X and XL smartphones play along well with sideloaded apps not only in theory, but in practice as well. While we were at the Nokia booth here at MWC 2014, we transferred one of our favorite games in APK format onto the Nokia XL, and sure enough, it ran smoothly. Unfortunately, we didn't have time to test anything heavier, but the right time for that should come eventually.
Furthermore, we can confirm that Android widgets are supported on the Nokia X And XL smartphones. In the video below, you'll see Android's stock widget with toggle buttons for the screen brightness, Wi-Fi, Bluetooth, and so on.
Now feel free to watch the videos below and see how sideloaded Android software behaves on a Nokia X and a Nokia XL. Does this get you even more excited about Nokia's entry into Android territory?