Here's how Apple announced the iPhone throughout the years
17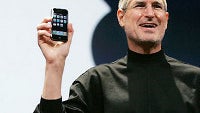 Believe it or not, more than five years ago, Steve Jobs went on stage to announce the first iPhone. It was a unique moment. Jobs spoke about three devices: a "widescreen iPod with touch controls"; a "revolutionary mobile phone"; and a "breakthrough Internet communicator," all of which turned out to be combined in a single unit, the iPhone.
The iPhone has evolved a lot over the years. The iPhone 3G got 3G speeds and GPS.
The iPhone 3GS added a huge boost in speed, so much that it's still relevant and you can play most games on the App Store on it. It also got multitasking which many craved for.
The iPhone 4 received a gorgeous redesign and a camera that put it on top of Flickr's list of most popular cameras.
The iPhone 4S seemed like a more incremental update, adding in an even better, this time 8-megapixel camera and Siri, Apple's take on intelligent voice assistance.
All of those were announced at events packed with people and tons of excitement, and what better time to look back at all the iPhone keynotes than now, hours before the iPhone 5 arrives?
source:
IntoMobile