Here's an app that will really maximize your smartphone battery life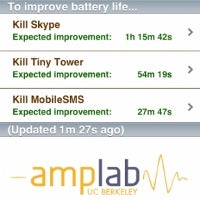 Battery life
is probably one thing you won't brag about if you have a brand new smartphone - no wonder, those huge screens eat a lot of power, and if you have a battery hog app to run in the background, you're destined to have your phone die on you before the day is over. If you happen to see that you're running out of battery, though, and you really need the phone to last as long as possible, a new app,
Carat
, on both the iPhone and Android, brings an elegant way to do so.
If you've looked up battery saving apps, you probably already know that the majority of them are a waste of time and space on your phone - you're either stuck with a very advanced task manager and tons of apps you can kill with no known outcome, or a too simplistic non-functional battery report.
What makes Carat different is that it strips off the layer of sophistication, analyzes your phone and the apps you use, and shows you just which apps are the battery hogs and - here's the best function - how much battery life you'd gain if you kill one particular app.