Here is where people buy their iPhones (hint: it's not just Apple Stores)
38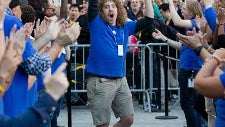 With Apple Stores getting most of the press for their exquisite designs and Geniuses always ready to help, you might be thinking that most of the iPhones are sold right there. It's true that Apple Stores get a huge amount of visitors compared to other retailers, but having just 250 of them in the United States comparing to more than 1,300 Best Buy locations and over 5,000 carrier stores for AT&T, Verizon and Sprint, sales at Apple Stores are merely a small fraction of the big picture.
The wider and more prolific the outreach, the more the sales. That's the rule that iPhone sales clearly follow, and interestingly the
majority of iPhones are sold directly at carrier stores
.
That's an interesting illustration of how closely tied carrier and phone are, and how people prefer to get their phone at their carrier right away.
The importance of carriers is further underlined by the start contrast of the percentage of iPhones sold at Apple Stores (relatively small) and the percentage of iPads and iMacs sold at Apple's retail locations (huge).
A whopping 47% of all Macs, and an impressive 40% of iPad sales happen at Apple Stores. Both of these devices are usually sold without a data plan, so if the carrier gets out of the equation, sales numbers for devices start growing at Apple's own locations. And that's interesting, don't you think? Check out the graphs below to see where iDevices are sold the most (hint: it's not on the web either).
source:
AllThingsD