Here is what the common Google Play Store error codes mean
14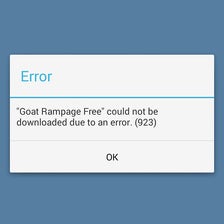 Long-time Android users surely know that the Google Play Store can be unreliable at times. This happens rarely, but when it does, it may lead to confusion with all those cryptic error codes that appear when something goes wrong. XDA-Developers member
mohamedrashad
must have been pretty frustrated with these as well. He's put together a long list of Google Play Store error cores along with their meanings and ways to solve them.
Error 923
, for example, is a common one. We've noticed that it might occur if your phone is on stand-by and you try to install an app from your computer via the Play Store web site. It might go away on its own after a while, but sometimes, clearing the cache might be required for the error to be resolved. Another one that you might run into is
Error 919
. It occurs when the app is downloaded, but the free space available on the Android device isn't enough to complete the installation. The solution, obviously, is to free up enough storage space by deleting stuff you no longer need. And if you ever get
Error 911
onto your device, that means there's something wrong within the Play Store app itself. Clearing its data by going to Settings>Apps. Or if this doesn't help, you might need to reconnect to your Wi-Fi network.
These are just three of the many error codes described in the thread so follow the link below to see them all. If you need a solution to a common Play Store error, chances are that it is going to be highlighted there.