Here is the full retail price of the all new HTC One (M8)
99+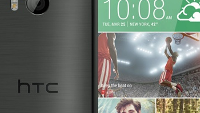 The
all new HTC One (M8)
has been hyped to a level usually not seen for a smartphone that doesn't have an Apple on its back plate. Even the annual unveiling of Samsung's flagship phone never reached the manic level we've seen for the
HTC One
sequel. What is it about the all new HTC One (M8) that has everyone reacting like this? Could it be the dual-cameras on the back of the device? The dual LED flash? Or is it that HTC listened to its customers and added a microSD slot. And this time, instead of opting for the Snapdragon 600, HTC is powering the M8 with a Snapdragon 801.
Whatever the reason, if all of this pre-unveiling excitement is turned into orders, HTC could have the hottest Android phone on the market this year. And it is not as though the competition is sitting still. The
Samsung Galaxy S5
is expected to ring up some pretty big numbers despite the fairly tepid response to its unveiling. Unlike the HTC handset, the Galaxy S5 will include a heart rate monitor, fingerprint sensor and IP67 certification. LG will eventually introduce the
LG G3
, and Sony has the
Sony Xperia Z2
, both of which are also challengers to HTC's new model. And if Oppo can ever work out a U.S. carrier distribution deal for its
Oppo Find 7
, all bets are off.
If you've already decided on the all new HTC One (M8), we have some important information for you this morning. A tweet from master leaker evleaks reveals that the M8 will be priced at $600 sans contract. That matches the pricing for the all old HTC One (M7). And the tweet goes on to add that the gold colored M8 is a Best Buy only SKU.
Tuesday is right around the corner, and all of the hype will culminate
in the unveiling of the all new HTC One (M8)
. After Tuesday, we will see if HTC has really learned how to market a phone.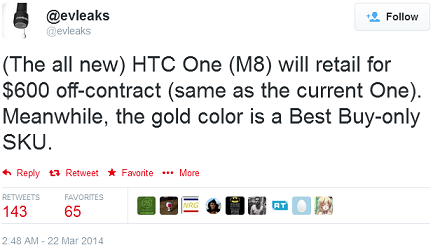 The non-contract price of the all new HTC One (M8) is leaked
source:
@evleaks