Help Joe the lumberjack get his wood back in Lumber Jacked – a fast-paced retro platformer
2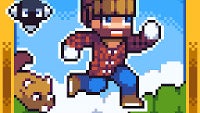 Lumberjacks hate it when someone fools around with their meticulously chopped wood. They really do, especially when it is a bunch of lousy rodents doing the mischief. Okay, maybe that's not exactly the case in real life, but that's totally the plot in Lumber Jacked - a fast-paced platformer game for Android and iOS. Here's the deal: this guy, Bustin Beaver, has stolen the lumber of Joe the lumberjack. Needless to say, Joe is not very happy about this, so he embarks on a mission to teach Beaver and his gang a lesson.
Lumber Jacked is split into multiple not-so-large stages, which you must complete within a given time frame. Succeed and you'll be awarded three stars. Seems simple? Well, it isn't. There are obstacles to avoid, arrows to dodge, high platforms to reach, and beavers to knock out with Joe's fists of steel. Overall, the game is neither too easy, nor too difficult. It just takes a little while to get used to the on-screen controls and to the jumping mechanics. Once you master the double leaps and the wall jumps, you should be ready to tackle the harder stages of the game.

Graphics in Lumber Jacked are in pixelated 2D, which gives the game a pronounced retro feel. The lack of fancy visual effects and HD graphics means that it should run even on weaker hardware. Sound, on the other hand, is anything but old-school. A fast-paced rock tune plays in the background, fitting the action-packed nature of the game perfectly.
Lumber Jacked costs $0.99 on iOS, but if you own an Android device, you'll have the chance to enjoy it and its 60 levels at no cost. Ads do appear in the Android version of the game, but they can be removed with an in-app purchase.
| | |
| --- | --- |
| Developer: Everplay Interactive | Download: Android, iOS |
| Genre: Jump and Run | Price: Free (with in-app purchases) on Android, $0.99 on iOS |