Having complaints about the Z10's battery life? BlackBerry can't do anything about it
63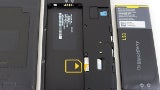 It appears that
we haven't been the only ones to find the BlackBerry Z10 lacking as far as battery life goes
. Other users have also complained of poor battery life, but unfortunately, it seems that there's nothing that can be done about this.
BlackBerry's Vivek Bhardwaj, who is responsible for the company's software portfolio, has reportedly said that BB's software team is trying to make BB10 as competitive as possible in all areas, including battery life, but for now this seems to be the extent of their efforts:
"We are trying to be as competitive as we can on the battery. I think we are pretty good. Are we the best out there? I'm not sure."
It also seems that what's causing the relatively short battery life with the Z10 isn't some kind of a bug or problem, but simply due to the capacity of the battery and the way the operating system works. Because of this, BlackBerry isn't working on an update to fix battery life:
"Software updates can only do so much. Our focus when we push out updates is to address market issues or enhance features."
In short, if you're unsatisfied by the battery of the BB Z10, you'll either have to put up with it, or try to get rid of it and buy another device.
source:
Pocket-lint