Harman Kardon speaker powered by Microsoft's Cortana gets certified
11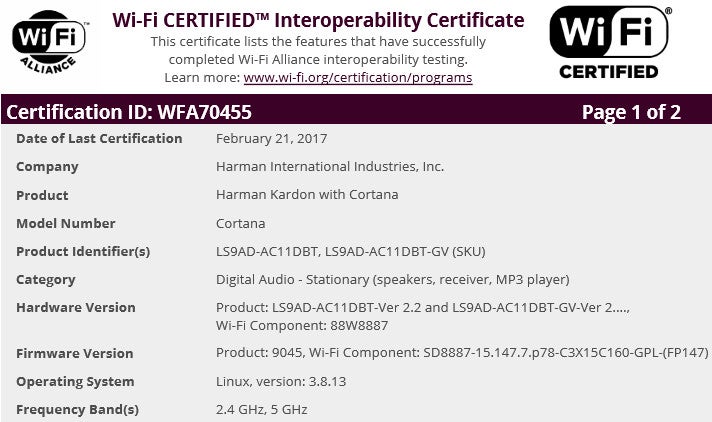 Harman Kardon with Cortana
Google Home and
Amazon Echo
are among the most popular voice-activated speakers, but there's enough room for other companies to join this relatively fresh market.
Microsoft is another major player that's likely to adhere the fray, as the Redmond-based company plans to lend its Cortana personal digital assistant to Harman.
The information was confirmed
by Harman back in December when the company published a video teaser of an upcoming voice-activated speaker. The new product by Harman Kardon would be powered by Microsoft's Cortana.
Since the device hasn't been unveiled at CES 2017 in early January, there's a chance Samsung,
Harman's new owner
might announce the speaker at Mobile World Congress later this month.
Regardless, a
Harman Kardon speaker
recently received its Wi-Fi certification at Wi-Fi Alliance, so the reveal announcement can't be too far away. The product's description mentions the speaker is powered by Cortana, and that it runs Linux version 3.8.13.
We're also attaching the video teaser released by Harman back in December, which offers a sneak peek at what's to come.