Happy Wheels review: ragdoll physics masterpiece focusing on blood and gore
4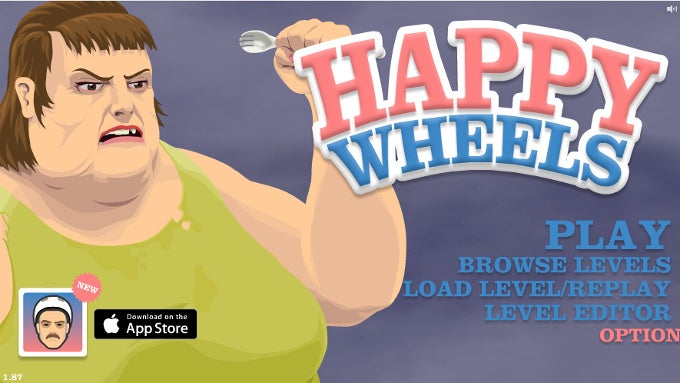 Better late than never, right?
The best ragdoll-physics game for Adobe Flash made its appearance for iPhones and iPads on the Apple App Store more than a year ago (and the original Adobe Flash version has been available for years. Yes, it's not for everyone and sure, it has a ton of violence and blood, but - of course - that's no coincidence. The game creator Jim Bonacci himself said that the reason for making this game was that
"no one was making their ragdolls die properly. They'd usually flop around harmlessly or in some instances have the same canned animation over and over."
Ragdoll physics masterpiece
So, first a quick intro for the Happy Wheels newbies: this ragdoll-physics game features a ton of games and the possibility to create your own levels. Some are long drives, some are challenges that take place in a room, some are maddeningly hard and others much easier to pass, but all are united by the gore and blood, as well as chaotic body part movements of all the characters in the game.
You can browse the available levels and start getting used to the gameplay: your character can move forward and backwards, jump, as well as let go off the vehicle he has. This game being the dark humor masterpiece that it is, it does not require to go to the finish line in one piece: you can have only your torso left and still arrive at the final destination and win that level.
Happy Wheels characters
Then, you can also choose your character: each one has a different vehicle and playing with each one is a little different. Mainly, because you die in all sorts of unexpected ways.
So how do you beat the game?
Well, passing levels in Happy Wheels is a lot about restarting because dying is an inevitable part of the game: you'll die and you'll die a lot and in all sorts of ways. In some levels, you'd get mad that you can't figure out a simple thing: how do you throw a sword in Happy Wheels, for instance? How do you do this and that, you'll encounter all sorts of these challenges in the levels.
At the end of the day, up to this day, we're still impressed with the creativity and variety of levels in this game. You have all sorts of challenges in all sorts of levels: you can play in the Washington DC subway station, a Matrix-like world, a roller-coaster where you cover yourself from dangerous spikes with the bodies of others, and the list goes on and on. And if you're tired of all and the same unoriginal games, Happy Wheels provides both the strangely satisfying masochistic pleasure of seeing your character die and the varied gameplay to keep on doing it.
Download Happy Wheels here (app and Flash version links)
Pros
Great ragdoll physics
Gore and blood done well: you'd play it just to see the thousands ways to die
App is well-adapted for smartphones
A ton of levels, countless hours of gameplay
Cons
Some levels are way too hard