Happy Fourth Birthday, Android
70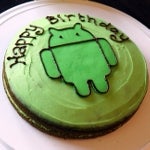 It is hard to believe, but
today is Android's fourth birthday
. It was on this date in 2008 when the Android Developers Blog announced that Android 1.0 SDK release 1 was available. At the time, there was also excitement about the
upcoming release of the T-Mobile G1
. The
Apple iPhone 3G
was just a little more than 2 months old and most of its competition was coming from featurephones like the
LG Dare
and the
Samsung Instinct
. A month after the release of Android 1.0 SDK, the
T-Mobile G1
was launched. Android co-founder Andy Rubin later would say that Android 1.0 was more like .8 and that it had been rushed out for the Christmas season.
was delayed
but eventually enhanced the functionality of the phone. As we're often fond of saying, it was the release of Android 2.0 that really started the Android phenomena. That build of the open source OS was
originally found on the Motorola DROID
which was the first smartphone that could compete with the Apple iPhone.
We are now up to Android 4.1.1 Jelly Bean and Android phones controlled 68% of the global smartphone market in the second quarter of the year, according to IDC. One model, the
Samsung Galaxy S III
sold more than 20 million units in 100 days
. Four years ago today, that would be all in the future. Ironically, back in 2010 when Symbian was the top Global smartphone OS, IDC predicted that
Android could be on 68 million smartphones by 2013
, good enough for second place to Symbian. The latest figures show
480 million Android handsets in use with 1.3 million Android devices getting activated daily
.
Happy Birthday, Android!
source:
AndroidDeveloperBlog
(from 9/23/08),
YouTube
,
RegHardware
via
Engadget