Hangouts 4.0 arrives to iOS first! Material Design and stickers in tow
15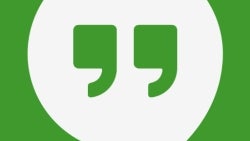 Earlier this month, we caught wind of a
Google Hangouts update leak
, which showed a cosmetic overhaul to be en route to Google's underappreciated chat app. The update is dubbed Hangouts 4.0 – an upgrade from 3.3 – and brings more material design in the form of a floating active button, sandwich menu, and the general flatness that we've come to expect.
Today is the day that Hangouts 4.0 finally hits user devices for the first time. "Why isn't it on my Play Store yet?" you may ask. Well, surprisingly, the first place that the new update is available on is none other than iOS's App Store. That's right – you may be the proud owner of a
Nexus 6
, yet the newest iteration of Google's proprietary chat app will land on iPhones first.
On to the specifics, Hangouts 4.0 brings a nice taste of Material Design to iOS. The app was quite flat beforehand, too, in line with iOS 7's aesthetics, but now brings the signature "sandwich" menu in the top-left, and a floating "new message" button. The latter is not to be mistaken with an "active" button, which displays a number of actions when tapped – the iOS version of the app lacks that functionality, while the Android one will, reportedly, have it.
Another big thing to hit Hangouts is stickers! Well, we are not sure how excited one would be about those, but fact is that most chat apps out there do have some type of supersized smileys, and Hangouts was definitely falling behind in that field. Will it be enough to draw more users to the app? Probably not on its own, but it shows that Google is willing to keep up with the competitors in order to put its chat app out there.
Recommended Stories