Hands-on with the Verizon Wireless XV6900
92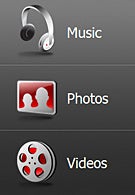 The white plastic of the XV6900 creates a significant difference from the Sprint Touch, however. Whereas Sprint's black version uses soft touch paint, giving a reassuring feeling in the hand, the white plastic casing used by Verizon is hard and slippery, making the device feel decidedly cheap. The white mesh for the speaker holes, as well a lack of branding on the back, give the XV6900 the appearance of a knock-off Chinese device as opposed to a $350 smartphone. Though we would have imagined it was the same, the Verizon screen has noticeably more drag when running a finger or stylus across the screen. We'll give Verizon the benefit of the doubt and chalk that up to months of use on our Sprint device, but honestly we don't remember that with the Touch. It ships with a few less accessories as well: there is no miniUSB to 2 miniUSB splitter, no stereo headphones and no memory card which are all included with the Sprint Touch.
However, in comparison to the LG Voyager, the XV6900's display is somewhat more responsive and is easier to use with your finger. Often times when we used the Voyager, we wished a stylus was included, but we hardly ever needed to use the one that came with the XV6900. The included mobile version of Internet Explorer loaded web sites faster and displayed them with greater ease than the Voyager's basic HTML browser. Not to mention that Mobile Outlook is a more capable e-mail program, with the ability to view HTML e-mails and open file attachments.
We should also point out that the new $29.99 Data Plan that Verizonlaunched on April 14th is currently not available with the XV6900. Thisleaves consumers with the following four choices:
Pay-as-you-go, which will charge you $15.36 per MB (1.5 cents per KB).
10MB of data usage for $24.99/month, with overages costing $5.12 per MB (1/2 cent per KB).
Unlimited data (5GB cap) for $44.99/month.
Data Block, which will block all incoming and outgoing data.
Overall, we were disappointed in Verizon's offering when placed next to the Sprint's version. We still love the hardware, build quality and size, just like we did back when reviewing the Sprint unit, but it has taken Verizon over five months to launch a device that was ultimately the same as the competition and in the process they managed to cheapen it. Except, of course, for the price.
HTC Touch CDMA
Specifications
|
Review