Hands-on with BlackBerry Storm
81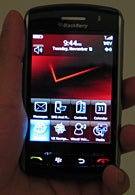 The curved metallic
edge
accents the glossy black plastic face that surrounds the gorgeous 3.2" screen. The stainless steel back cover protects the phone and feels sturdy in your hand. Indeed, the Storm is a global smart phone which means that it has a spot for a SIM card in the back. One of the representatives informed us that they would provide an unlock code only after 60 days of owning the device on Verizon's service. RIM is also providing some much needed memory to compete with the iPhone in terms of storage with an 8GB microSD card packed with the device. After placing the battery into the phone, we noticed quite some time needed to actually boot up the phone and finally get into the home screen. Once fully powered up, we were greeted with the big red Verizon logo and menu icons for quick access to some of the phones popular applications.
Whoa! That's literally the first thing that comes to mind when pressing your finger into the screen. There is no other expression other than that coming out of the mouths of every single person. You can glide your finger across the menu icons without having to worry about launching an application because you literally have to press down on the screen until you feel the click to make your selection. Tilting the screen to either of its side will switch the view to landscape without any noticeable lag. Afraid of having the phone activate something like placing a call while in your pocket? No worries here, thanks to the unlock button discretely located on the top left side of the phone.
pixel
display. The auto-focusing
3.2
megapixel camera with a LED flash seemed to produce pretty good images when previewing them on the phone.
It's all fine and dandy that the phone looks great on the outside, but it can only go so far with good looks and new innovations. The new BlackBerry Operating System will have to prove to users out there that they can compete with the likes of the iPhone and Android Operating Systems. Sure you can have multiple programs running in the background, but can it still provide a swift and intuitive interface? The touch screen wars have finally begun with RIM's Storm looking to be a formidable opponent to the mighty iPhone.
Expect our full review soon!