Halloween Humor: iPhone gives people a zombie freak out
7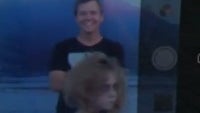 Just a quick picture is all it takes right? What could possibly go wrong? Unless you are an unsuspecting passer-by looking through an iPhone, about to take a pictures and…what was that?
The iPhone is the perfect device to pull a prank like this off, since the user-interface is so simple: point and shoot and done. In this case however, Jack Vale has a little something extra planned for the unsuspecting, a cameo walk-by of a zombie or ghost on the screen while the person lines up for the shot.
As you can see from the very beginning, it is simply a video play back and Jack synchronizes his moves right up until the target of the prank completely loses perspective and of course, does not pick up on the joke.
The reactions are just what you would expect, one guy picks up on the joke, and most of the rest of the folks are taken completely by surprise and two young ladies completely freak out. Frankly, we are impressed that no one dropped the iPhone in the course of losing their mind.
Below we have the prank, the outtakes, and the little girl (Jack's daughter) who made the prank possible.
source:
Jack Vale Films
(YouTube)