Apple's own adoption figures show 50% of eligible iPhones are running iOS 13
36
The numbers, which were calculated by Apple based on visits to the App Store, also show that 55% of all iPhone models released in the last four years are using iOS 13. That would include the
iPhone 7
,
iPhone 7 Plus
,
iPhone 8
,
iPhone 8 Plus
,
iPhone X
,
iPhone XS
,
iPhone XS Max
,
iPhone XR
,
iPhone 11
,
iPhone 11 Pro
and
iPhone 11 Pro Max
. 38% of these models are still running on iOS 12 while 7% are using an older build. Last year at this time the latest version of Apple's mobile OS was iOS 12,
which was installed on 60% of eligible iPhone and iPad models
.
Apple added a native Dark mode to the iPhone and iPad with its 2019 iOS builds

Speaking about the iPad, this year Apple released a dedicated iPadOS 13 for its tablets. One-third of all eligible iPads are using iPadOS 13 while the majority, 51%, continue to run iOS 12 on their tablet. 16% have an even older iOS version installed. Sticking with iPad models launched in the last four years, 41% have iPadOS 13 installed, 51% are running iOS 12 and 8% are being driven by an older iOS version.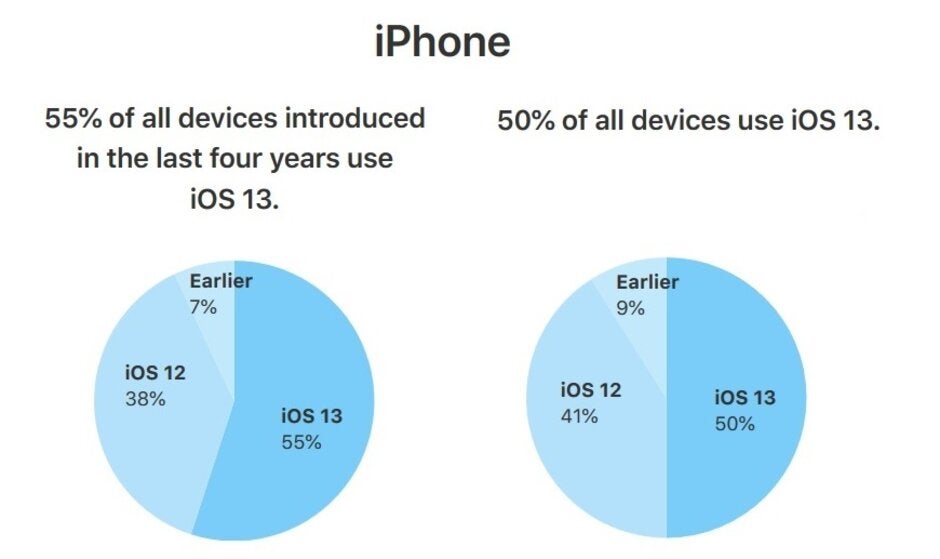 50% of compatible iPhones are running iOS 13
With the iOS 13 update, Apple has added a native Dark mode, reduced the size of app downloads and updates making them faster, and apps will now load on the iPhone up to 2 times faster. Face ID is also faster, Apple Maps shows more details, the Photos app is revamped and the virtual QWERTY keyboard gets a native swipe to type function. On iPadOS 13, iPad users can fit more app icons on the home screen, shrink the virtual QWERTY keyboard, use the native swipe to type feature on the keyboard, and receive desktop websites by default on Safari. Highlighting text is easier and a three-finger gesture is used to quickly cut & paste text. With iPadOS 13, Apple's tablets will also get a native Dark mode.
If the iOS adoption rate this year follows what happened last year, we could see iOS 13 on 75% of compatible iPhones by next month, hitting 85% by next summer and 90% a month before iOS 14 is released next September.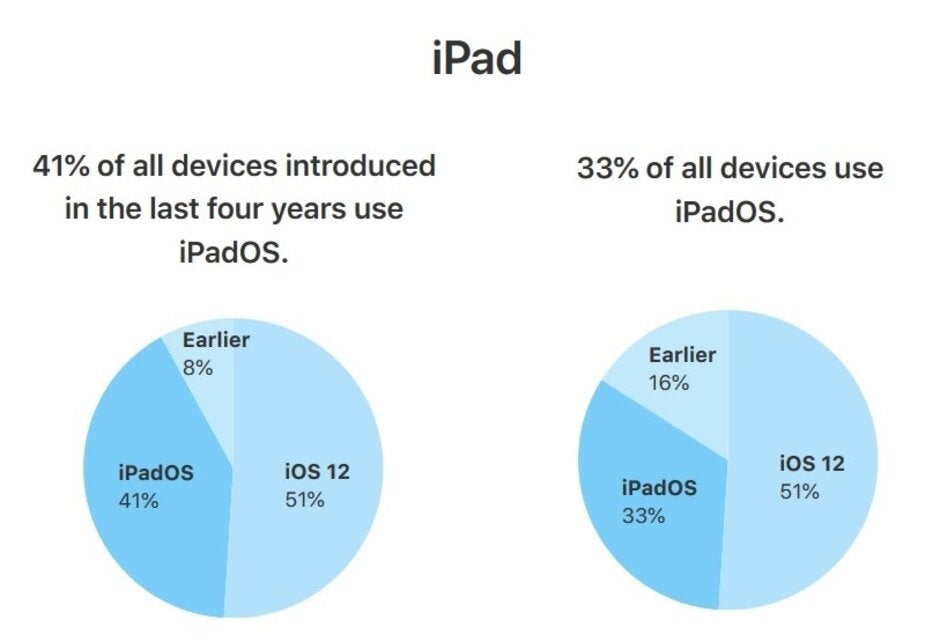 One-third of compatible tablets are running iPadOS 13
Because Apple makes both the software and hardware for its mobile devices, it doesn't run into the fragmentation problem that Android has.
The last official numbers released by Google from back in May
revealed that seven months after dropping the final version of Android 9, only 10.4% of Android devices were running that build. Last month, Google released Android 10 which is found on only a few models including the Pixels and the
Essential Phone
. At the same time, back in May the most widely used build of Android was 2017's Android 8. Google has yet to update this data and it isn't clear that it ever will.
At one time, the distribution figures were reported like clockwork every month. Quite coincidentally, just a few weeks before Google released the May distribution numbers that we referenced above,
we theorized that Google was ashamed of this data
which explains why it didn't disseminate this data from October 26, 2018 through May 7, 2019. And since then, it has been over five months since we have seen updated Android distribution data.