Google brings back the Android data that you were waiting months for
8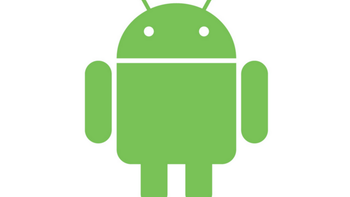 Not since late October of last year has the Android distribution dashboard been active
. This is the page that showed the latest breakdown of Android builds based on devices that entered the Google Play Store over a seven day period. Many looked forward to seeing the data each month, and the good news is that Google is bringing it back. The company says that showing the percentages and the accompanying pie chart was making the platform look more fragmented than it really was. Google now says that with the release of future distribution data, it will include additional information to back up this position.
A few months ago, Google said that starting on August 1st,
new apps must target Android 9.0
, and any app updates starting on November 1st must do the same thing. Developers that don't play along will find that they won't be able to publish their apps in the Google Play Store and use the platform to update their apps.
The latest distribution figures, which feature the data collected during the seven-day period ending today, revealed that only 10.4% of Android devices are using the latest build. The most widely used version is Oreo, Android 8 and 8.1. Both versions of Oreo combined are found on 28.3% of Android devices. With a 19.2% slice of the pie, Android 7 Nougat was next followed by the 16.9% of devices running Android 6 Marshmallow. Interestingly, Android Gingerbread (2.33-2.37) and Ice Cream Sandwich (4.03-4.04) both are still found on .3% of Android devices. The two versions of the operating system were released in 2010 and 2011 respectively.
Google's Project Treble seems to be showing some positive results

When Google stopped updating the distribution dashboard two months after the launch of Android 9 Pie, the previous build, Oreo, was found on only 21.5% of devices. The data created ammunition for iOS users who like to point to Apple's traditionally high iOS distribution numbers. For example,
80% of iOS devices are using iOS 12
. But it is not fair to compare the iOS distribution numbers with the Android figures. After all, Apple not only develops iOS, it also builds the hardware. Google has to deal with the plethora of different manufacturers that manufacture Android phones and slates.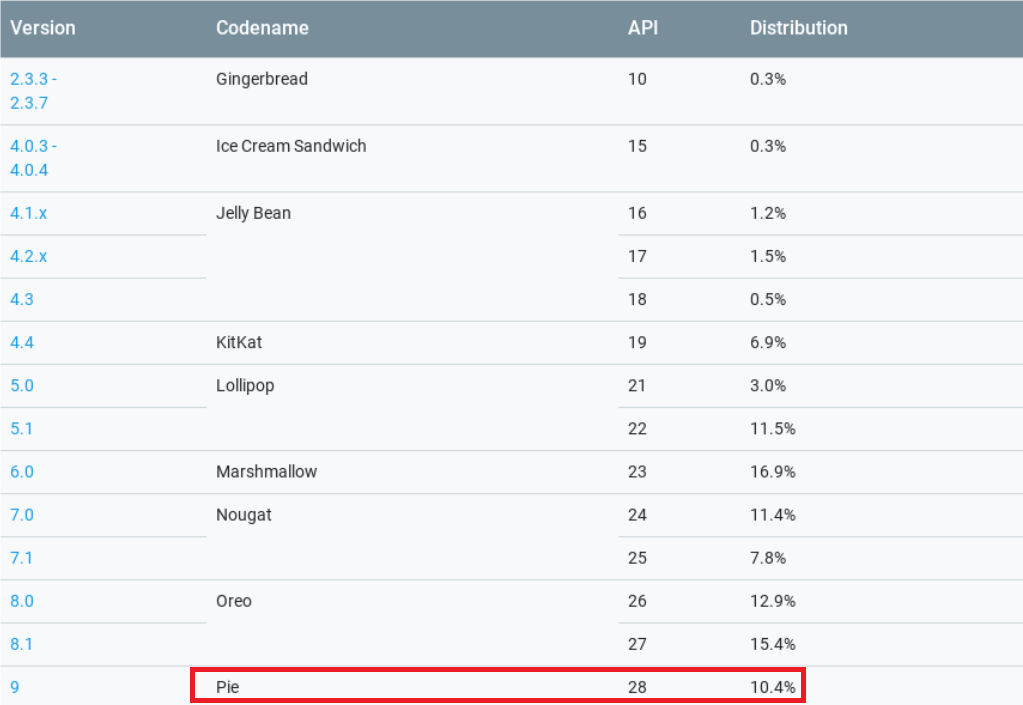 The latest distribution numbers show Android 9 Pie installed on 10.4% of Android devices
Google's Project Treble uses a modular process so that certain elements of the software, which don't need to be updated everytime there is a new build, remain as a foundation. This means a little less work as much of the hardware related code stays with a device for its life. This should allow Android manufacturers to push out updates faster. And starting with Android Q, Project Mainline will allow some phones to receive security updates via the Google Play Store. In a sign that Project Treble just might be working, Google says that the 10.4% of devices with Android 9 Pie installed is a 150% improvement compared to the distribution figures for Android 8 Oreo at the same stage of its life. It also is the fastest that an Android build hit the 10% mark since Google started keeping track of this information.
Google also officially introduced Android Q today
, and when the final version starts rolling out (with a native dark mode feature!), Pie moves back a step and the whole process starts over again. The progress made by Project Treble certainly seems encouraging. While parity with iOS distribution would be a very ambitious target, future Android updates could be disseminated to more phones earlier than ever before.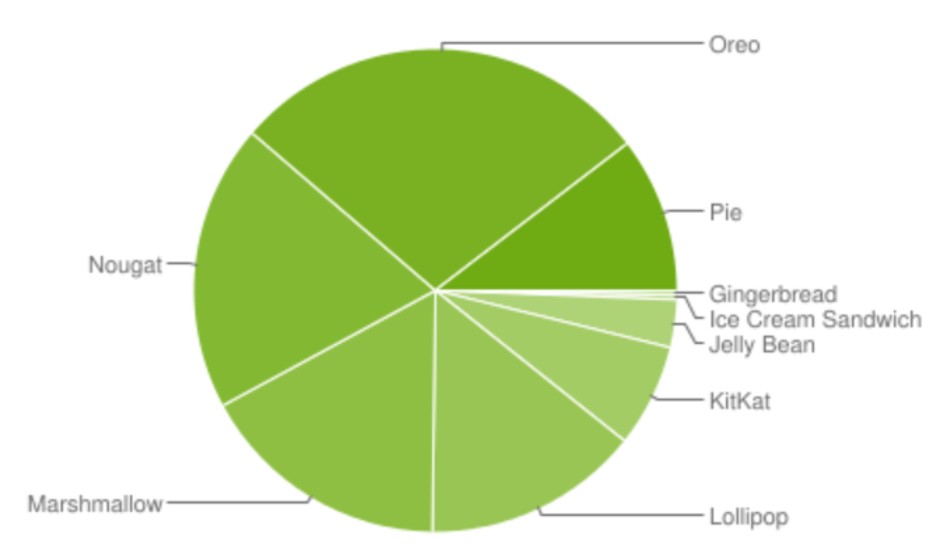 Another way to look at the latest distribution figures