HTC's Android 6.0 Marshmallow roll-out details revealed by a company executive
7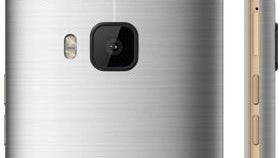 With
Google's big Nexus event
going on today, the occasion has presented an opportunity for Android device makers to reveal their plans for
Android 6.0 Marshmallow
. HTC exec Jason Mackenzie has gotten the ball rolling by offering some information on when its customers can expect to see the new software. Per a recently-posted tweet, it looks like the HTC One M8 and
M9
will be joining the party before the close of 2015, with several other devices set to be shown some love in 2016.
The One M8 and M9 sit atop the list posted by Mackenzie, which makes sense given that they're the past two flagships. It always pays to err on the side of caution where Android updates are concerned, though, and the shiny asterisks next to the late-2015 projection will have many One M8 and M9 owners feeling skeptic already: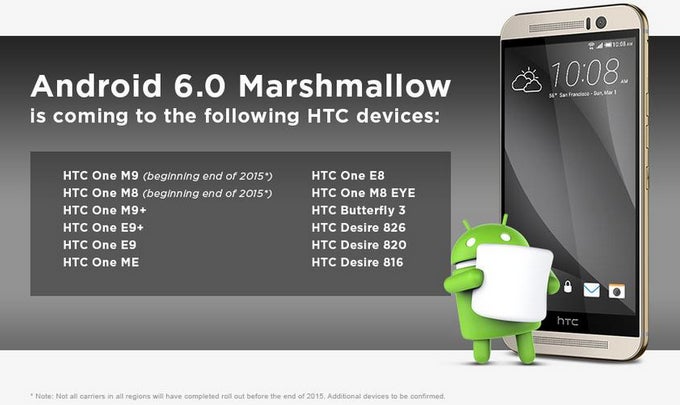 As you can see, the small print adds that
"not all carriers in all regions will have completed the roll out before the end of 2015,"
so if you do own either handset, don't be putting that champagne on ice just yet. Mackenzie gleefully claims in his tweet that his company will be
"serving up Marshmallow sweetness real soon."
Just how soon 'soon' is, though, we'll surely discover as the release unfolds.
As the eagle-eyed among you will have spotted, several other handsets will make the cut at some point in 2016, including the
One M9+
and the
Desire 826
. There's no precise release bracket as yet, but if the M8 and M9 can be seen off before the year's end as intended, there's every chance that some of those devices could see Marshmallow this side of next spring.
The rumored
HTC One A9 'Aero'
, meanwhile, which looks set to be announced
on October 20th
, will likely run the latest flavor of Android right off the bat.