HTC working on a portable media player, suggests patent
13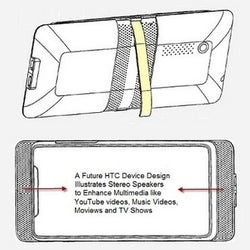 Soon after the very first iPhone was released, Apple unveiled the iPod touch media player, which was more or less an iPhone without the phone part. Eventually, Samsung decided to venture into the realm of "smart" media players with Android-based offerings of its own, such as the
Samsung Galaxy S WiFi 4.2
. And do you know which company might be next to hop on the bandwagon? Well, if a recently discovered patent is to be believed,
HTC might be working on a portable media player of its own
as we write these lines.
Details are pretty scarce at the moment, which leaves plenty of space for speculations to start piling up. Obviously, the unit that is being described in the patent has a huge screen and lacks buttons, meaning that we are definitely looking at a touchscreen-operated media player. Also, chances are that the device will run a flavor of Android, if it ever gets to see the light of day, that is.
But as the case is with many patents that we come across, there is no guarantee that this rumored HTC media player will ever hit the market, so don't get too excited about it yet. On the other hand, don't you think that such a device might be a worthy competitor to the iPod touch, especially when
flavored with a dash of Beats Audio and paired with a great audio streaming service
? Let us know what you think by dropping a comment below.