HTC submits 'EVO shift 4G' for trademark
3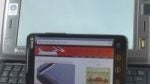 HTC has found a great deal of success with the Android OS. While they gained their initial fame from their
Windows Mobile
devices, they are becoming a household name thanks to their Android models, like the
HTC EVO 4G
. When they diversify within an OS, it's important to keep the branding straight, which makes their recent trademark submission for 'EVO shift 4G' a little confusing.
We're not confused that they're coming out with a new version of the
EVO 4G
. That's a given, considering its enormous success as the first 4G phone in the U.S. What's odd is the choice of the 'shift' name. They had an earlier device called the
HTC Shift
, which was a 7-inch QWERTY device running Windows Vista and Windows Mobile 6. If you don't remember it, don't feel bad. It didn't do very well. But maybe it just wasn't its time.
So now we get to speculate about what the 'EVO shift 4G' could mean. Are they going to make the EVO even bigger (i.e.
a tablet
)? Or are they going to add a dual-booting OS to the mix? For all we know, the 'EVO shift 4G' could be a
Windows Phone 7
device. What do you think it will be?
source:
AndroidGuys
Recommended Stories