HTC says the Merge will be released this Spring
18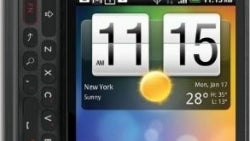 What ever happened to Baby Jane? Or in this case, what ever happened to the HTC Merge? It seems like nearly an eternity ago, August of last year, when we
first got word
of the new HTC Android smartphone that was to be headed to Verizon. Over the past six months, we learned that it was an Android powered smartphone and would feature a sliding
QWERTY keyboard
, and would also come with Bing integration. Furthermore, the device was shown to have a Verizon/Vodafone SIM card, which makes it seem to be a global-roaming device, but then
word came out
that it could be featuring Verizon's 4G LTE.
Now we're hearing from HTC directly about the Merge, saying that it will be "made available through multiple North American carriers beginning in spring 2011." Notice that Verizon Wireless isn't mentioned at all, and the Verizon logo has been removed from the front of the device in the PR image, though that still doesn't rule-out Verizon carrying it. The Press Release continues to tout it running Android 2.2 Froyo, HTC Sense user interface, has a slide-out QWERTY keyboard, 3.8" 480x800 resolution capacitive display, and a 5MP autofocus camera with LED flash and 720p video recording. Unfortunately, LTE is nowhere to be found, but it does state that the Merge will be a CDMA world phone, though it doesn't mention which GSM bands it will work with while in other countries.
At this point we can say the HTC Merge is well over-due, expectantly with the
HTC Thunderbolt
4G due out in the next week or so.
Are you still interested in buying the HTC Merge? Let us know in the Comment section below.
source:
PRNewsWire
------------------------New PR Image-------------------------------------------Older leaked image----------------------