HTC posts grim Q3 2012 results, expects an even worse Q4
37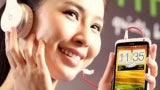 The tough times for HTC seem to continue with full force, as the company has once again posted very grim financial results. The balance at the end of HTC's third quarter shows that the company has achieved a revenue of $2.4 billion, which is down by the dreadful 48% from its Q3 2011 revenue and by 23% quarter-on-quarter.
Even worse is HTC's operating profit for this quarter, though, which amounts to $167 million, down by the disastrous 76% compared to the same period of last year.
SlashGear
notes that HTC's operating margins seem to be falling helplessly, with the company's current margin being about 7% and forecasts for the next quarter seeing it at just 1%. Revenues for the next quarter are also expected to fall, reaching $2.1 billion.
Facing such tough challenges, HTC's management has decided to undertake some cutting of the expenses, and as a result, the operating expenses for Q3 are down 29% year-on-year. However, cutting expenses equals cutting valuable investments that would have otherwise helped the company fix its products (or at least they
should
have helped it).
Thinking about why and how HTC has found itself in such an unfavorable position, we can't help but point at the company's current lineup of smartphones and put the blame on it. It's not a secret that where its phones once shines, they are now overshadowed by its rival on the Android market - Samsung. HTC has tried to find new ways of differentiating its products, but it seems like it has made the wrong deals. For example, HTC's partnership with Beats yielded weak results and failed to attract many customers. The problem is that even though its devices are supposed to be Beats-powered, their sound quality isn't much different than that of the competition. Because of that, this effort by the company ended up being more of a marketing move than some real value for the customers.
The investments that HTC has recently made in its camera technology, which resulted in the ImageSense cameras found on some of its "One" smartphones, have also been a big loss for the company, as the cameras of its new handsets are actually poorer than most of the competition.
HTC is also having great trouble improving its software user interface, the so-called Sense UI. Sense has always been a heavy UI, but at least it was once impressive, whereas now it's just heavy and unoptimized.
It also makes us wonder if HTC is playing the right game right now. A few years ago, HTC managed to do what many would now say is impossible - to breach into Apple's own turf - the mainstream market. The company's early Android smartphones did just that - they turned out to be appealing for the normal people, as they could easily stand out from the rest of the handsets out there. There days, however, HTC has been losing too much resources trying to match Samsung's monster phones, and the rumors of an
upcoming HTC device with a 5" screen
don't really promise any change in this respect.
source: HTC